This page updated regularly. Last update: 7/19/18
(951)928-6625 email:oldwestaussies1@gmail.com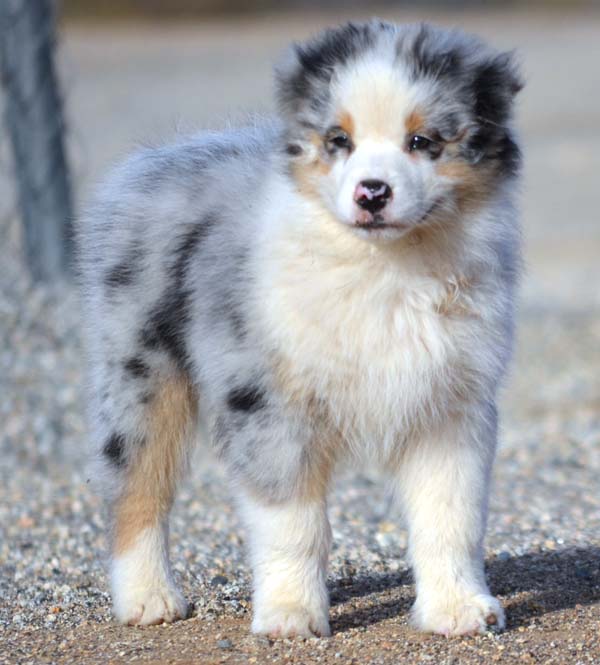 We have 2 litters planned for early September.
Please check back in mid August for information and to be added to the waitlist. I won't start a waiting list until I know for sure my girls are pregnant.

1. Ransom was bred to Primrose for a litter of all 4 colors possible
2. Sutter was bred to Loretta for a litter of blues and blacks.
---
OLD WEST puppy sales policy & prices

We proudly sell Aussie puppies that can be lifetime companions. We breed for puppies that are sound in both mind and body. We do not let our puppies leave until they are at least 7-8 weeks old so that they have had shots and have been wormed twice. We also spend a lot of time socializing and playing with our puppies so that they will leave here as well-adjusted family members.

All puppies have their eyes cleared by a licensed veterinary ophthalmologist between the ages of 6-8 weeks old. The parents of each litter have also had their hips/eyes checked clear before being bred. All puppies are registered with both ASCA and AKC and are sold as either show/breeding or pet/non-breeding quality. The price is based on the puppy, not whether you want it just as a pet or to show/breed.

Show/Breeding: ($1500-$1800) These are puppies that fit both the ASCA and AKC breed standard. They are fully guaranteed for hips, eyes, and bite with a written contract (Click on link below for my contract).

Pet/Non-Breeding: ($1000-$1200) These are puppies that are perfectly healthy, but should not be shown or bred. This is usually because they are mismarked (white in wrong places) or have some other fault, per the ASCA breed standard. The pet/non-breeding puppies must be spayed/neutered. They can compete in obedience or agility or anything except for conformation shows. They come with ASCA and AKC papers but they are marked that they are non-breeding status.

Please do not submit a deposit for a puppy unless you have
contacted me first to check availability