2011 Testimonials from the happy owners
of OLD WEST
puppies
These are the testimonials and emails from previous puppy buyers. We LOVE to hear about our puppies in their new homes. IF you have an Old West puppy and would like to let us know how he or she is doing, please email us. We love seeing pictures of our kids as they grow up with their new families. Please click on the year at the bottom on this page for testimonials from each year.
---
10/23/11
Kitsy,
I can't believe three years have passed without us sending you an update on Kona... She continues to shine! She's still very attentive and very eager to please. She has become a fabulous member of the family. She really enjoys playing soccer in the park these days. About 9 months ago we rescued a mini Aussie that looks so much like Kona we sometimes call her Mini-Me =) Kona has been so great at helping this rescue learn to trust people it's been really great to watch and we really believe Kona has helped save this little dog. I've attached a photo of Kona by herself as well as one with her and Zoey. We'll be keeping an eye on your litters (as always) and we're considering another Aussie in three years. Hard to believe Kona will be 5 this December! She's been such a blessing to our family and again, we thank you for entrusting her to us. We hope all is well with you.
~Lisa and John
10/17/11
Pictures of the sweetest doggie in the world and one of her 2nd side, a little devil...
Sally Hart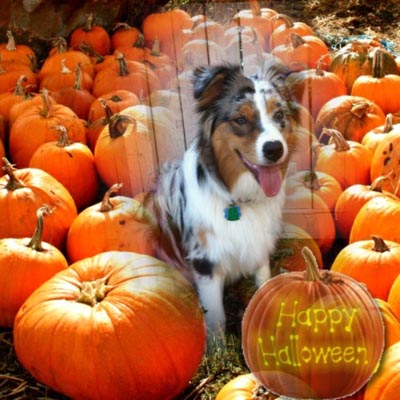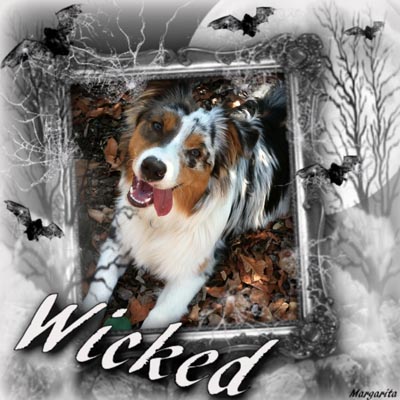 10/5/11
Hi Kitsy...My apologies for not staying in touch better..Gunner (Bella's litter mate red-tri brother) is doing just fine. He has a very special personality. We haven't made it to the show ring. MoF I think only a couple of show people have seen him. Both love his head...He is a little slight in the body - very athletic..All of my horse friends know him as my constant companion. He whines if he thinks we are going to the barns. Hates it when I ride...I hope I can get him over that..He has a little girl friend at the ranch..Boxer x Bloodhound..lol...Ann..she hangs from his collar and they race around the ranch...He is the most loving dog. My friend Jeanne started laughing at him because we were all talking and Gunner put his front feet on my chair and stood up and licked me on the chin...I am so used to his displays of affection I didn't even think a thing of it..BUT..that flipping your arm over his head can be a little disconcerting driving, hot coffee, doesn't matter. lol..I love him to death..We have had our differences..he is still young-red and male..but he is now starting to really be one of the GREAT ones. One of my friends told me of your special boy..that even if you did or didn't like is body type, you would love the dog because he had such presence and personality. I hope I can get my hours straightened out. Gunner would be a killer in the obedience ring. He has that GREAT expression. Hope all is well with you. Thanks for letting me have this guy. Patty Freyhof and Gunner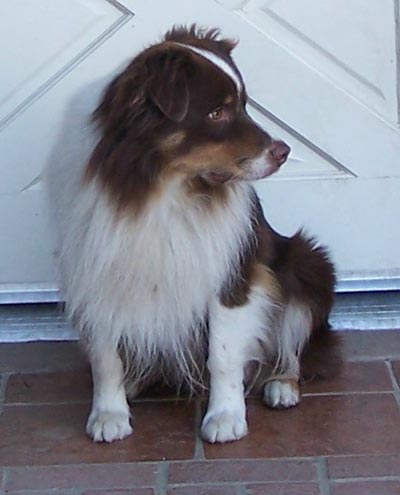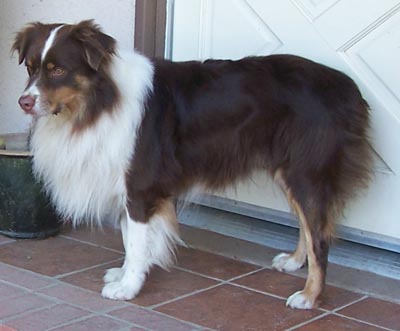 9/12/11
Hi Kitsy,
Here are a couple of shots of Ziggy. He's HUGE! And he's 8 months old. We just love him. He is so silly and very loveable. The girls at the vet want to keep him. Sharky turned 8 this past August. I can't believe it. He is just as handsome as ever. And of course my Cocoa.
Hope all is well. Thanks again for such great family members. They are the best!
Tawnia, Lolly, Sharky, Cocoa & Ziggy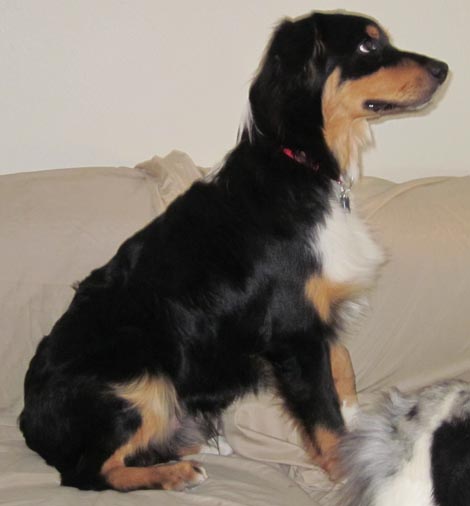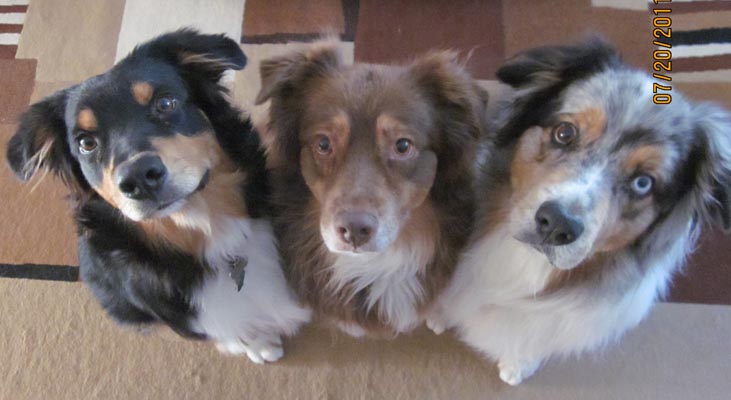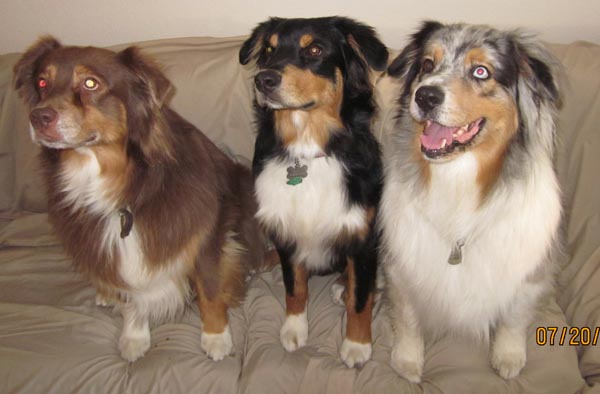 9/6/11
Hi Kitsy,
Thought I would give you a quick update on Quigley. He is now eight months old and weighs 50 pounds. As you can see by the picture he has a new favorite past time. Quigley is our third Aussie and the smartest dog that I have ever been around. That can be a blessing and a curse depending on his mood :). He completed obedience training and begins a rally class soon. He keeps us entertained and on our toes. Hope all is well with you. I look forward to seeing the pics from your next litters.
Teresa Lewis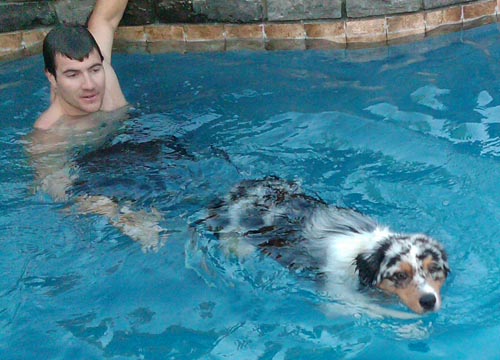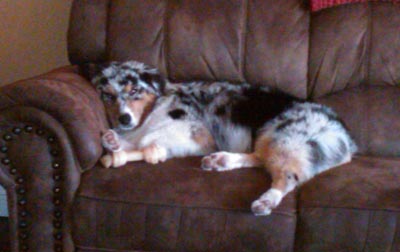 6/11/11
Hi Kitsy, Wanted to give you an update on Quigley. This was taken yesterday on his first trip to the ocean. He has begun obedience training and is doing great in class. He is such a fast learner and continues to amaze us. Thank you again for allowing us privilege to raise him. He is a blessing to our family.
Teresa Lewis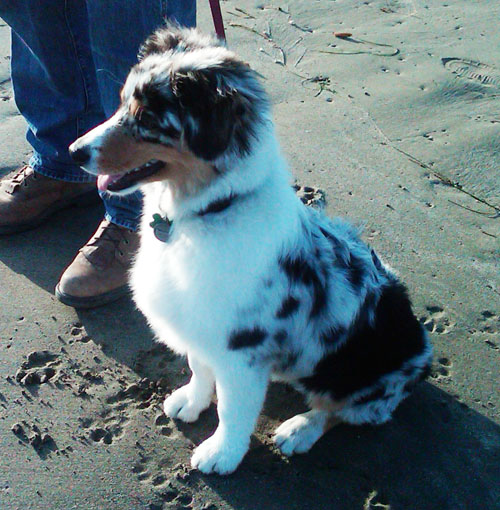 4/18/11
Hey Kitsy,
The two black tri girls from Bella and Feathers litters had their first "show outing" at the Joshua Tree's show in Palmdale. It was only puppy sweeps for them, but they enjoyed their day and got to be "out and about". They both have such marvelous temperaments. They were in two puppy classes, in one Bella's pup was first and Feather's pup was second (out of only three). They are learning to stand and be good for grooming and overall were very nicely mannered the whole time. Feather's girl is a "chunky monkey" but I really love her. Her coat will be very full it seems, had a little trouble grooming her coat down with all the puppy fuzz. She is always so happy and really seems to like all the kids that came up to pet her. She was a little grouchy with a couple of the other dogs so we are working on that. Bella's girl is turning into quite the beauty. Her coat is so naturally black and she moves like a dream, just floats along. She just sat and took everything in. My daughter just loves her and I am so glad you talked me into the other pup as she seems to have taken over my first puppy.
Cherlyn Pettigrew
3/23/22
Harley is doing well, she's already 15 lbs, loves to eat :) We're going to puppy preschool and she loves playing with other dogs. She is a quick learner too! I've attached a photo from last weekend, we went to Lake Tahoe and she LOVED playing in the snow!
Susan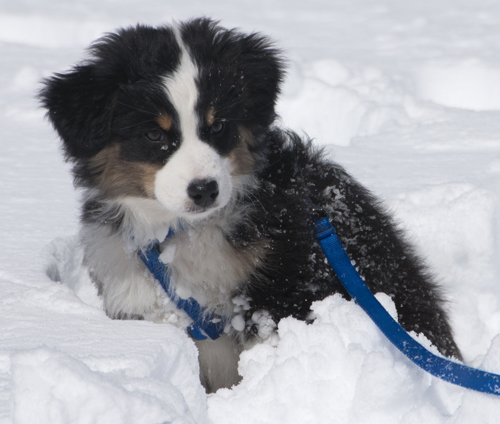 3/18/11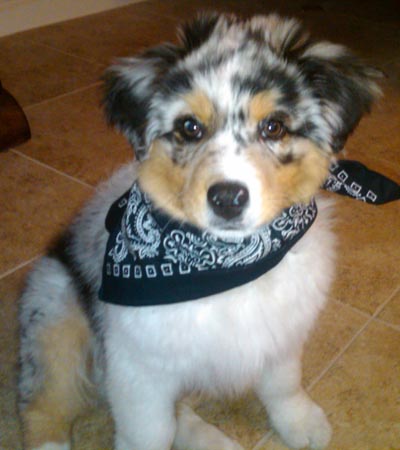 Hi Kitsy,
Wanted to give you an update on Quigley. He is doing great. He ways 15# now. Everyone loves him. He has a very outgoing personality and thinks he rules the roost. Hope all is well with you. I will keep you posted on his progress.
Teresa Lewis
3/14/11
Hi Kitsy
What a good boy I have. So far (fingers crossed) no accidents in the house, first night in the crate, not a peep last night he grumbled a little, but settled down and slept all night. Still don't have a name, have been trying out a few but so far nothing fits him. I think his registered name will be Old West 8 second ride, but not sure what the call name will be. Thanks again, I love him!
Cindy
3/13/11
Hi Kitsy,
Here are a few shots of Ziggy with the big dogs. He fits right in. And what a silly, silly puppy he is. I think he's way more silly than Cocoa or Shark ever were. We love him a lot. It's fun having a puppy around again. He has decided that my mom's little dog Clooney is his personal play thing. They have become the two mischief makers and get themselves into lots of trouble. But they sure do have a blast together.
Enjoy!
Tawnia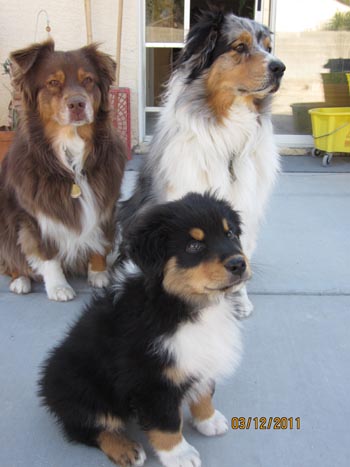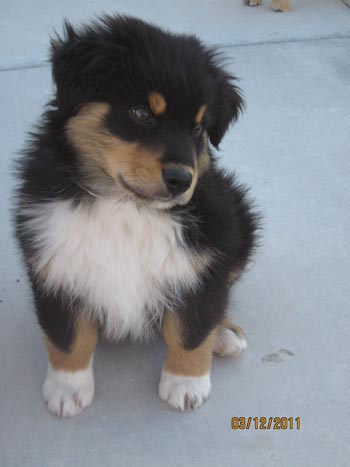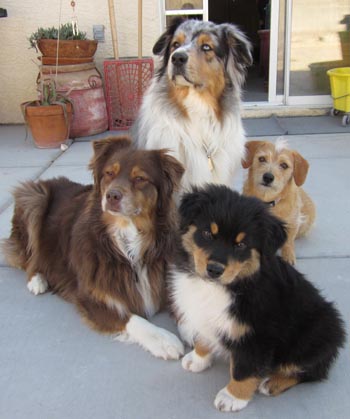 3/11/11
Hi,
Misty Blue is doing well….. she is so darling and sometimes such a devil…. She went into her crate in the BR by herself last night and went to sleep! I think we are done puppy-proofing the yard…. She gets into everything. I'm exhausted. She and John are bonding too. When she wakes up in the morning the 1st place she runs to is his BR door….. we are seeing the vet on Monday to get her checked out and start her on a puppy program.
Here is an updated picture…. We love her….. thanks!
Sally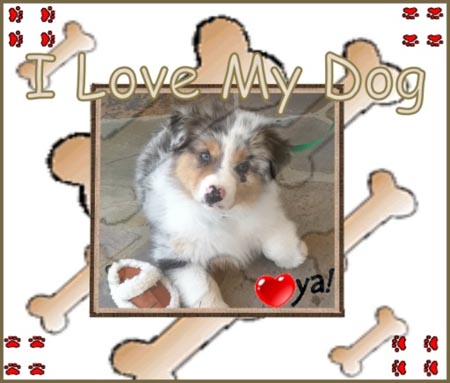 3/6/11
We can't begin to tell you how happy we are with our new puppy. She is beautiful and so well behaved for an Aussie pup. She happily sleeps in her crate (almost all night) let's us know when she needs to go outside, plays with our son non-stop and has already learned a few commands. Whatever you do, keep doing it.

I am also following up on the results of the tests. Have received them yet? Please let me know. I don't remember when you said you'd receive them.

Thanks again,

Michael, Candy, Mackenzie and Joey Wahl.