2013 Testimonials from the happy owners
of OLD WEST
puppies
These are the testimonials and emails from previous puppy buyers. We LOVE to hear about our puppies in their new homes. IF you have an Old West puppy and would like to let us know how he or she is doing, please email us. We love seeing pictures of our kids as they grow up with their new families. Please click on the year at the bottom on this page for testimonials from each year.
---
12/10/13
Hi Kitsy,
I just want to share with you that Destry (from Feathers and Wrangler) got his CD title this weekend. He got 1st Place all three times he showed. We are working towards his CDX. He is just such a wonderful boy and really enjoys training and competing. It's really fun to work with him and he is such a lover.
I've attached 3 photos from his wins. I'll also forward some photos of him working as a Therapy Dog and Reading Education Assistance Dog "READ". He can do it all, we also started on K9 Nose Work. He can find my car and my husband car in a parking lot with hundreds of other cars. Everything is fun for him to learn.
Thank you so much for breeding such a wonderful dog. Keep that blood line going.
Regards,
Gwen Fiorito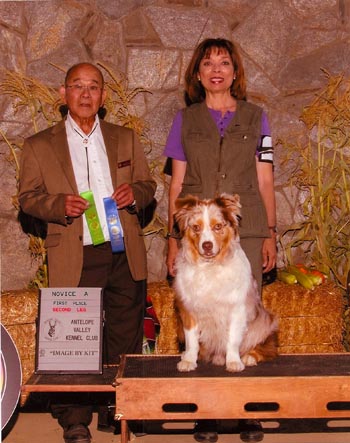 12/8/13
Hi Kitsy,
Just a note to let you know that Mitzi is sooo sweet and smart. She's doing well in puppy obedience, knows sit, down and come, and will be taking her final class next week. Then we'll move on to puppy agility. She has already been exposed to the equipment and seems to like it.
I hope all is well with you. I follow the website and see that all of the puppies in Mitzi's litter are gone and several of the remaining litter. That's good.
Merry Christmas.
Mike
11/23/13
We are in love with this dog-his name is Rocky—"Old West Legend of the Rocks" He is doing great, sleeps with us without any problems, Freddy does too and hazel in her bed beside my side of the bed. all are getting along fine.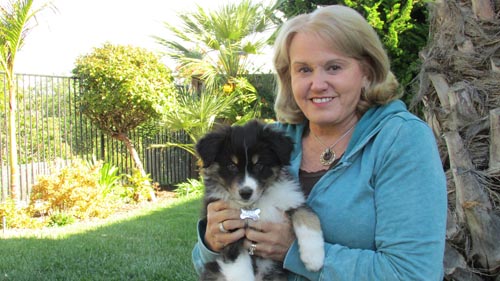 7/27/13
Hi Kitsy, 
It's been awhile since we've adopted Feathers and I just wanted to give you an update before I'm back in school and busy.  she is happy and looking 

great.  Her coat has grown back from her last litter very full and luxurious soft like a plush toy.  she had lost a little weight with our guidance but now 

with  all her fur I'm not sure. she is now playing with the pack (when my daughter brings over her aussie, newly adopted dobie, and foster chihuahua). and 

our boxer mix.  She runs and chases them barks and wrestles with the rest of them.  at first she grunted and tried to mother the10 year old chihuahua who 

wouldn't have any of it and now runs with the big dogs.  she sleeps with us on our tempurpedic bed and is a typical aussie, right by my side at all times.  she 

loves to go places with me in the car and enjoys her daily walks with my husband and the boxer. I am truly, in love with her, she has all of the great aussie 

traits but with a calmness that some aussies don't have.  everyone who sees her exclaims how wonderful she is. Thank you again so much for letting her come into 

my life. As my daughter likes to tell me every time I see her, feathers is the perfect dog for me, she is everything I ever wanted and more and I hope she 

feels the same with us. She is the center of our home and thoroughly spoiled.

Teri
2/22/13
Hi Kitsy,
I just thought I'd share some birthday photos of Bailey. She is getting along well, still chews a lot but it's getting better. She weighs 62 lbs. She is definitely a part of our family.
Shelley, Bill & Whitney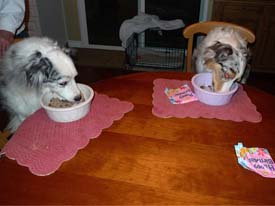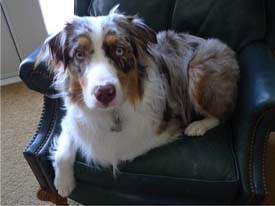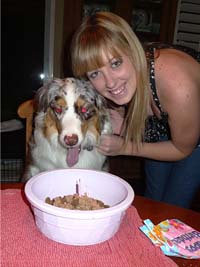 2/21/13
Dear Kitsy,
The past two and a half weeks with our new family member Cooper have been great! We have so much fun playing with him in our backyard and he has fun chewing on whatever is in front of him. He is learning 'no' and that he shouldn't bite especially from his cousin dog, Rocco, who likes to pin him to the floor when he does. We even started teaching him 'sit'. He loves a good belly rub and can even fall asleep on his back after having one! He loves to play in the water whether it's the sprinkler, a puddle, or his water bowl. He also loves to dig in the sandbox. Everyone who sees him loves him and thinks he's adorable. The vet even said he was a 'good looking guy'. (Just weighed in at 18.1 lb) If you give him a kiss, he'll sometimes give you one back! Or a bite… you take your chances. He has grown so much in so little time and loves to eat! We can't wait to take him on trips to the beach and wherever else we may go! Tell Feathers thanks for us! We can't wait to see Bella's new litter as well. We'll keep sending you updates on Cooper!
Doug, Karen, Douglas, Stephanie, Matthew, and Cooper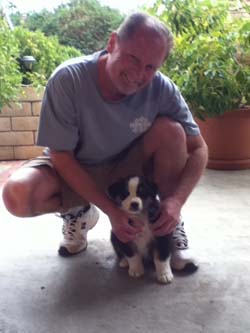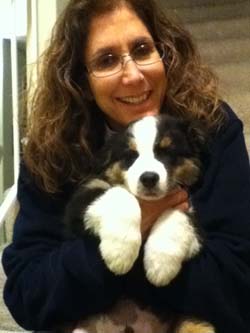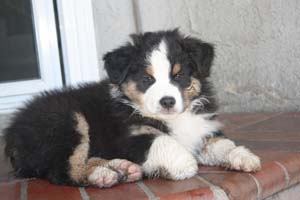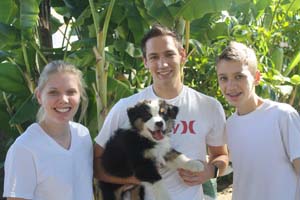 2/2/13
Kitsy,
Roxy is home and doing great. We had no issues on the ride home. We could tell that she was going through a little separation anxiety in the beginning but she has settle in now. She was panting a little while in her bed but that has stopped. She has used the bathroom but only outside. She went #1 and #2 in the grass exactly where we want her to go. We just gave her a bath and she LOVED IT!!! Michelle used the blow dryer on low and no issues with the dryer or her bath. She is a wonderful puppy. You sure know how to breed them. Keep doing what you are doing. We are so happy we got one of Feathers final litter. I hear you breed Bella. I will keep an eye on your website to see her puppies. Here is a picture of Roxy in her bed with her blanket. We will keep in touch and let you know how Roxy is doing from time to time.

Thank you so much for our wonderful family puppy.
Jeff Eiberger