2020 Testimonials from the happy owners
of OLD WEST
puppies
These are the testimonials and emails from previous puppy buyers. We LOVE to hear about our puppies in their new homes. IF you have an Old West puppy and would like to let us know how he or she is doing, please email us. We love seeing pictures of our kids as they grow up with their new families. Please click on the year at the bottom on this page for testimonials from each year.
---
8/21/20
Hi Kitsy
How are you? How did your kitchen turn out? Well, the Avilas are still enjoying and loving on Blue (Ransom X Nighty 2/20). He is a ham! He loves being loved and enjoys sticking his tongue out. Your two new litters are adorable!!
Congratulations!! We will be in touch.
All the best.
April, Mark, Mason, Parker and Landon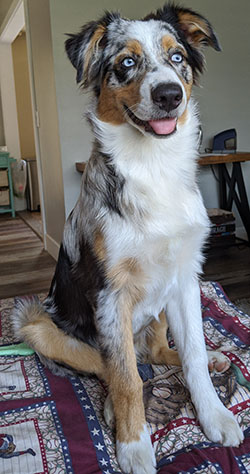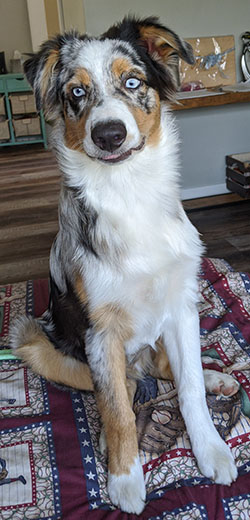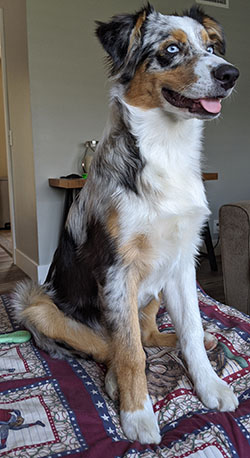 ---
8/21/20
Kitsy,
I hope you are doing well. I just wanted to send you a photo of how beautiful our Elska (Loretta X Ransom 8/19) is now at 1 year old. She is such a great part of our family; she took a road trip to Oregon with us this summer and had fun playing in the river. She is very smart, full of energy and sweet and loyal. She loves herding our chickens everyday!
We are interested in getting another Aussie puppy from you in the near future. We'd like to get a blue Merle boy, so please let us know when you have an upcoming litter available.
Thanks!
Elyse Cottone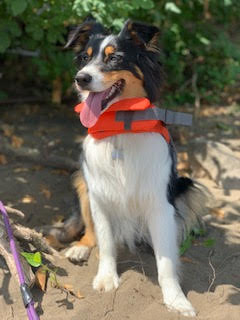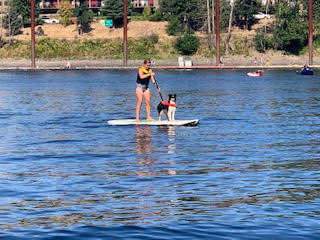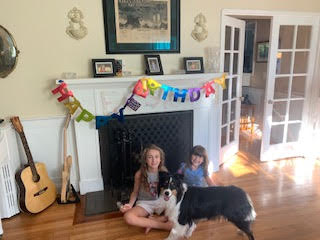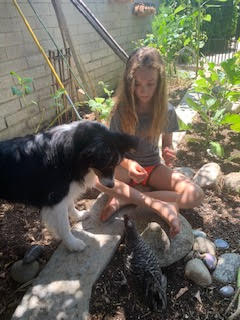 ---
7/18/20
We waited until all the Parvo vaccines went through to take Annie (Ransom x Nighty 2/20) out. She did really well on a harness and went for about a mile and a half. She loved all the new sights and smells :) she's done very well so far and has become a member of the family!
Hope all is well,
-Joe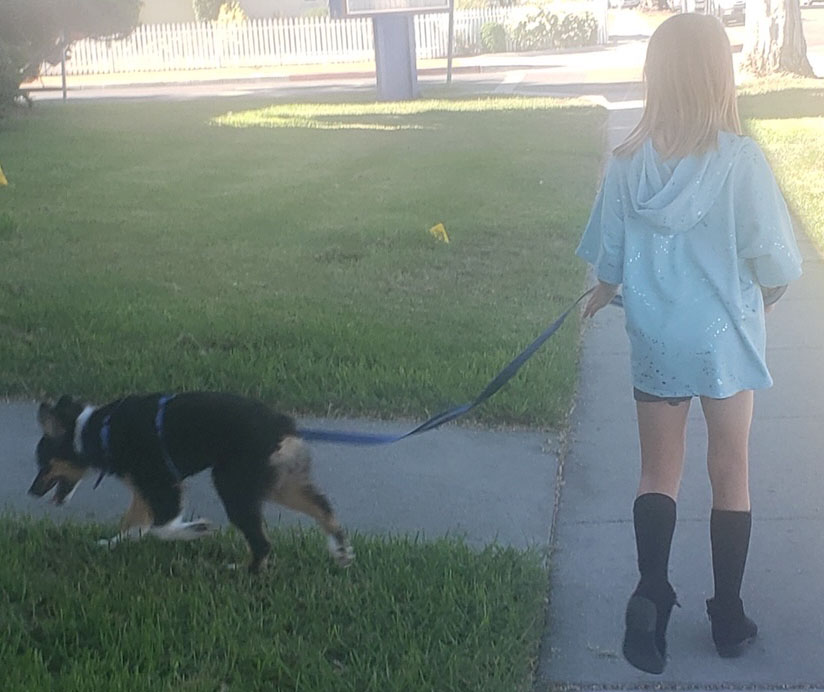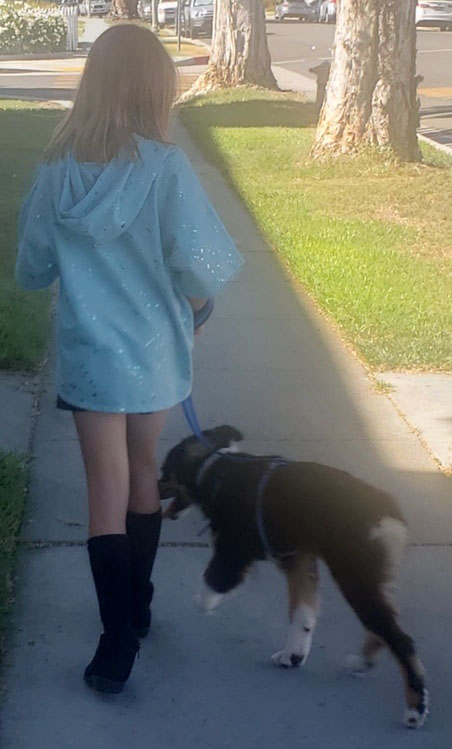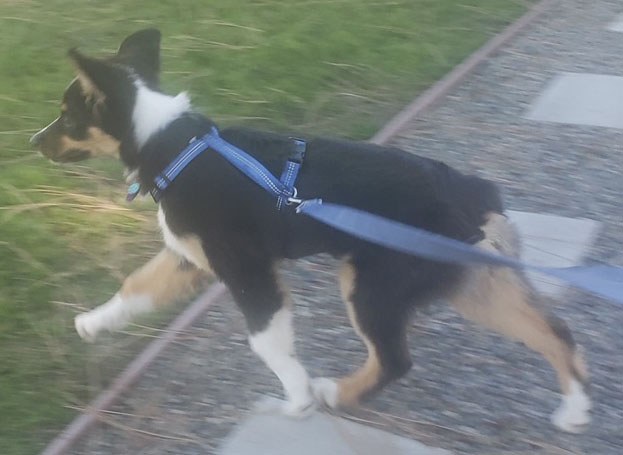 ---
7-14-20
Hi Kitsy.
How are you? Hope your retirement is going great!!It's Mark, April and the boys. We are sooooo thrilled with Blue (Ransom X Nighty 2/20). Blue continues to amaze us.His health is excellent. Everyone compliments his blue eyes. He is very happy, smart, quick and a fantastic listener. Blue has enjoyed the company of our friends, family and other dogs. We are very blessed! You have wonderful dogs, and I will recommend you to others.
Thank you Kitsy.
Your friends - always!!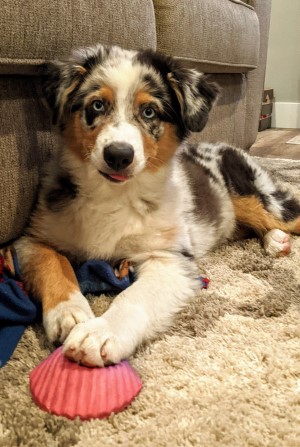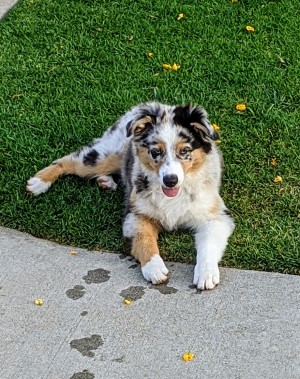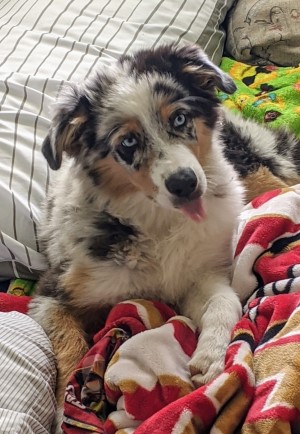 ---
6/27/20
Hi Kitsy,
Hope all Is well
Thought you might like a new photo of Bandit ( jinx and ransom). He's six years old now. We still get comments like"what a beautiful dog" when we walk him. He's such a smart boy too! Likes to get in the pool when he's warm and loves his toys.
Thanks again for our wonderful Aussie !
Karl Matthews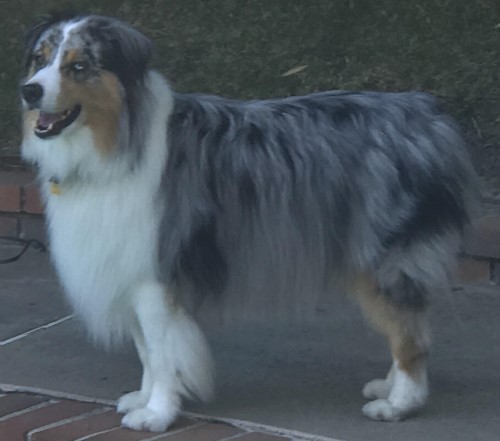 ---
---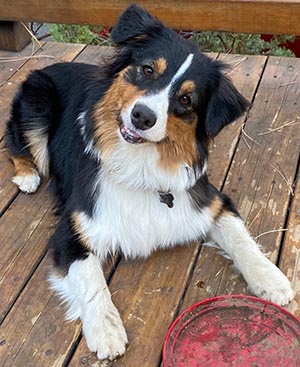 6/26/20
Hi Kitsy,
Hope you are doing well! We are greatly enjoying the BM male pup we named Scout in our family! (Sutter X Kindle 1/20) He loves walks, especially the dog beach, and will do ANYTHING for a treat haha. He has been such a special light and joy in this home quarantine life for us. So again, thank you, just know he is well loved.
We are considering another male puppy addition later this year. I see you are doing well with a long waitlist. We will reach out again when we are ready.
Be well,
Nicole Kramer
---
---
5/24/20
Hello!
Annie (Ransom X Nighty 2/20) is doing great!!! She loves her new home and going for tractor rides with the kids. She hops in the back and waits for them to take her around the backyard!

Joe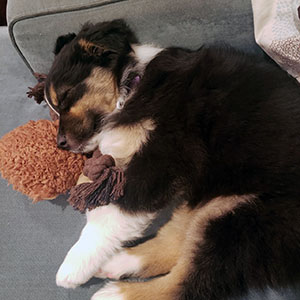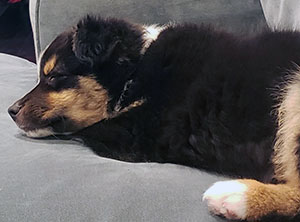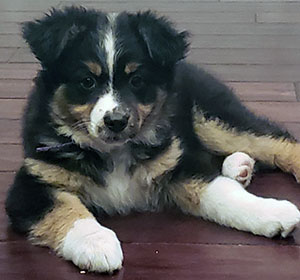 ---
5/20/20
Hey Kitsy,
I wanted to take a minute to share with you about the little puppy we brought home on May 2nd. We named him Ruffles (Ransom X Nighty 2/20), but I think you were calling him "black ears" :) which is a great name, because the black ears have definitely stuck!
Ruffles is doing great. He got a little car sick on the first drive home, but has been totally fine in the car ever since, mostly napping on rides. He has seen the vet and got a great bill of health and has started his rounds of vaccinations. Next week he goes in for round 2 of parvo, which is exciting because we can't wait to take him out to play in parks!
Below are a couple of more recent photos, as you can see, he's a beauty! We always get lots of compliments on him and love showing him off to friends and family. He LOVES all people that he meets and is also doing well with the few dogs that we have been able to introduce him to.
He is sleeping through most of the night already and we are working on potty training and obedience. So far he can do sit, stay, spin, down, rollover, up, leave it and come! We absolutely love training him and are so impressed with his likable personality and willingness to learn!
Thank you so much for raising such a good boy--he is an absolute joy! We will send more updates in the future.

Julia & Matt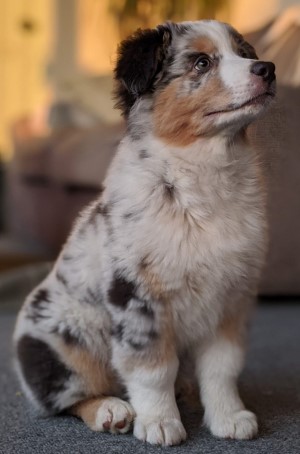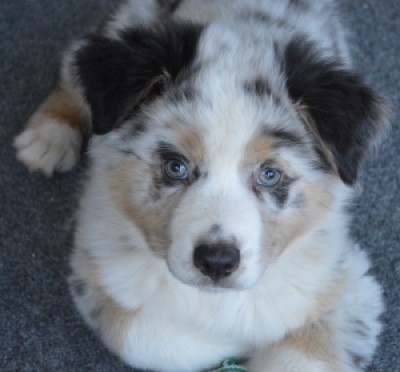 ---
5/5/20
Hi Kitsy,
Blue (Ransom X Nighty 2/20) is doing fantastic. He is sooooo smart. He smiles (grins) at us and is very quick. He is making himself at home. We are clicking and working with him. Most of all, we Love him! And everyone Loves him!!
Thank you Kitsy.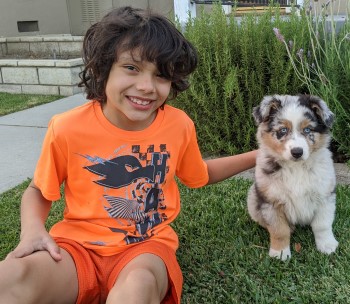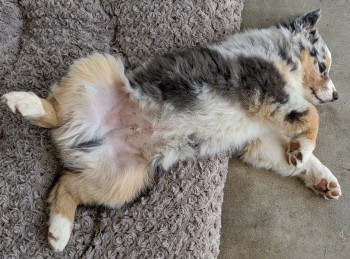 ---
5/3/20
Hi Kitsy,
Hope you are well during this time! Lumi (Kindle and Sutter 1/20) has been adapting well to her new home! I've enjoyed spending this time with her and she is growing so fast. She is a beautiful girl and I'm trying to socialize her as best as I can during this time. Hopefully we can get into some puppy classes soon. She is full of energy and loves to meet new people. I've really gotten to love her more and more each day and she is learning some commands. Thank you Kitsy for making Lumi possible, she is a joy.
I've attached a few photos from our play time today.
Best,
Gary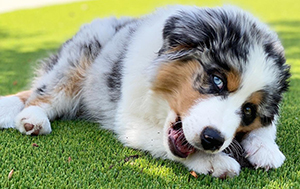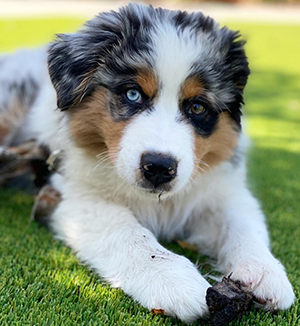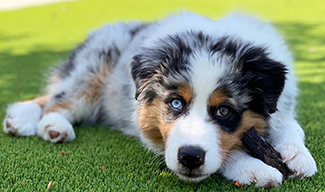 ---
4/24/20
Hi Kitsy,
I hope all is well with you. I thought I would send you some an update and pics of Sailor.(Sutter X Winter 10/15/2019)...... he's 6 months old now, 45 lbs and very handsome! Smart as a whip and yes he does try to outsmart us and sometimes succeeds. He is super friendly to people and other animals (he reminds me of your Scout). Sailor LOVES to play and run, never walks or stays still for long, he is becoming quite the athlete, excelling in agility. Thinking about trying him in water sports next. He is very loving and affectionate and I swear he understands everything I'm saying (and I talk to him a lot) He is the most curious dog I've ever had, everything interests him and he is always eager to learn, it's uncanny, yet awesome the way he will watch and study new things/ situations. And of course there are the naughty and mischievous sides too! When I'm out walking with him a day doesn't go by that someone will comment on how beautiful of a dog he is, people have actually stop their cars to let me know..... anyway we are madly in love with our boy and look forward to all the adventures we will have together.
Here are some recent pics.
James Clark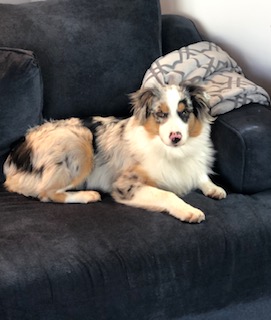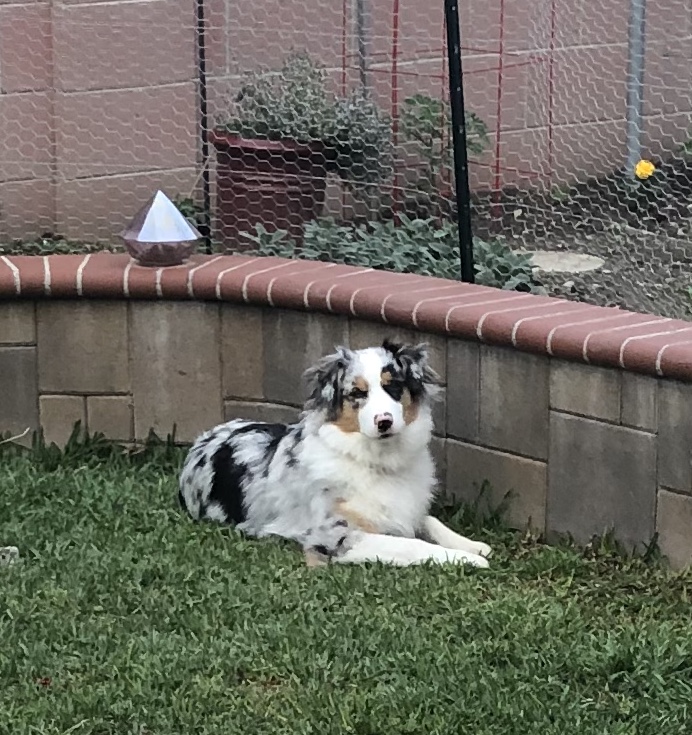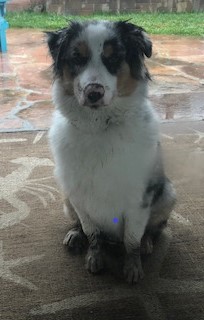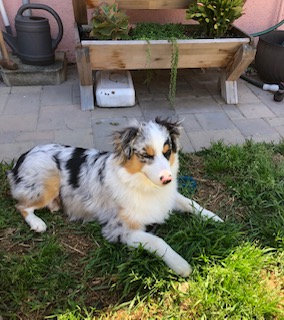 ---
4/23/20
Hello,
We adopted one of your pups in 2003 (I believe) while I was working in S. California. You had named her Bonnie, and we kept that name. Bonnie was the love of our life, and she passed away suddenly on June 25, 2015. Her last partner was named Reef, and we lost that precious boy on December 20, 2019. We're still so heartbroken that we can't adopt again just yet, but we wanted to tell you that your girl Bonnie lived a wonderful life full of fun and love, and we will cherish her memory as long as we live. I'm attaching a few photos of our girl so you can see how beautiful she was, and we want to thank you for making her life possible.
Sincerely,
Buzz & Debbie Marcus
Sequim, WA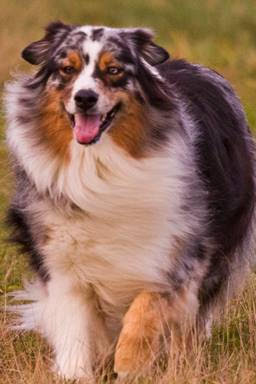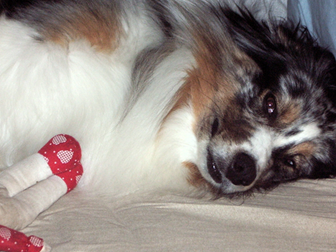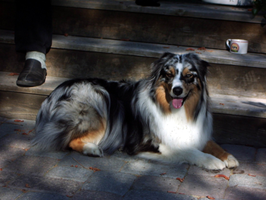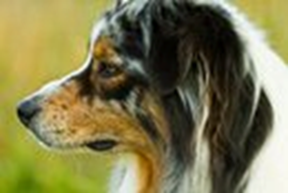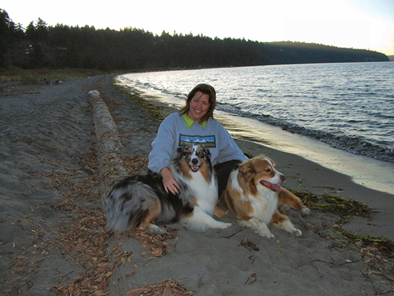 ---
4/22/20
Good morning,
As today is Chloe's 12 week birthday (kindle x sutter, 1/29/20) we thought we would send you a little update on our sweet, funny, piggy of a girl. She had her 12 week vet appointment today and weighs 18 lbs! She knows sit, stay, come, and down and pretty much potty trained her self from day one which we were obviously thrilled about. She continues to impress us with her intelligence. She loves her friend piper (1 yr German short haired pointer) more than just about anything...except maybe food. She's working really hard to be friends with Burma the cat but the kitty finds the ear licking and tail biting a bit invasive. She loves water, is excellent at fetch and is happiest outside in the grass. She loves to have her tummy tickled, gives the best full body crescent shaped Aussie wiggles when she's excited and burrows in whatever pillows she can find. She's the perfect balance of our attached little shadow and a spirited independent puppy. She will just sit to take in new things just watching the world around her always assessing a situation and always learning from things she's wary about the first time around. She's fit into our little family so nicely and we couldn't love her more.
Best,
Jesika and mike chalker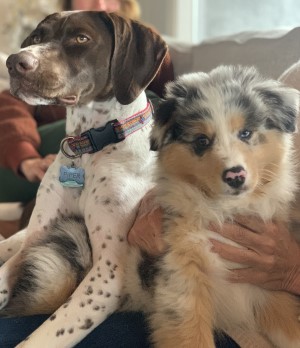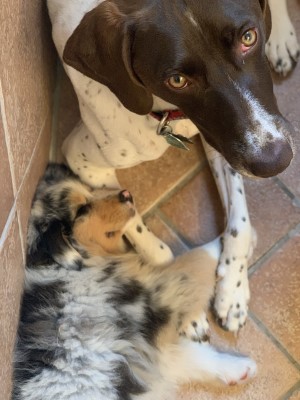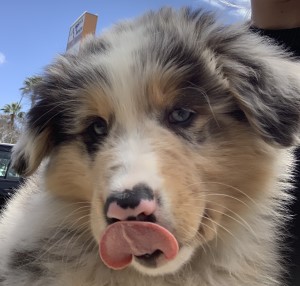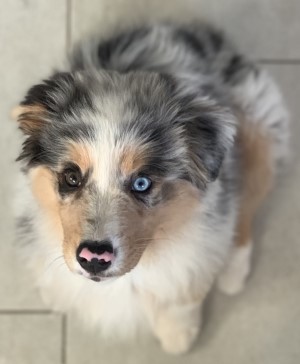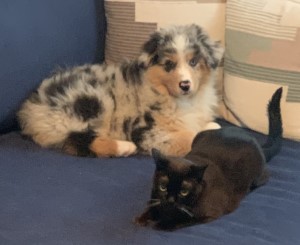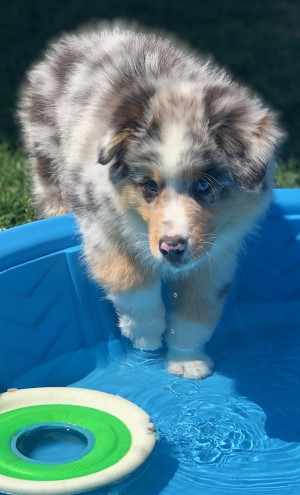 ---
4/20/20
Hi Kitsy,
Devin and I hope you're doing well.
We wanted to send some updates of Hugo (born 2/13/2020, Jinx & Ransom). In the two weeks since we brought him home, we've had lots of new experiences. This past weekend we were in Idaho so he: took his first flight, hiked all over our property, went to the snow, snuggled in front of the fire, and tried out the lake. He's been doing fantastic ❤️ He travels very well and has a great personality.
Thank you!
Shana & Devin Reiss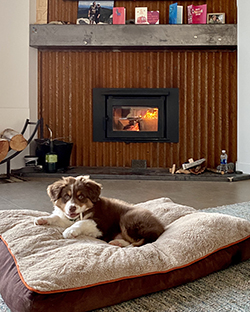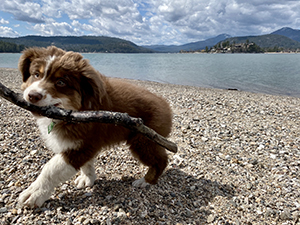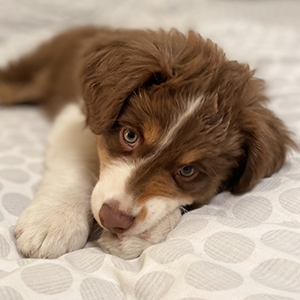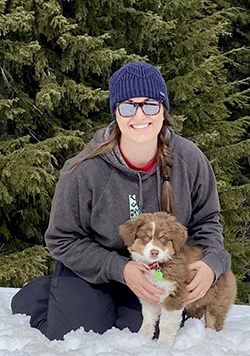 ---
4/12/20
Kitsy-
Happy Easter! The ride home was uneventful. It gave us plenty of time to finalize a name. We landed on Scout (Jinx X Ransom 2/13/20). It was on our short list and we liked your Scout so much it seemed like a fit. Our other dog Lilly is getting used to having him around and they're actually starting to play pretty good in the backyard. Kennel training and house training are going pretty well. He can be pretty mischievous, but also super lovable with my boys. So far, so good! Attaching a couple of pics.
Thanks again,
Jon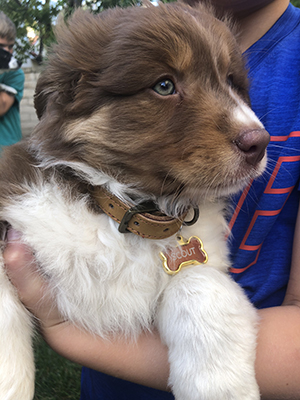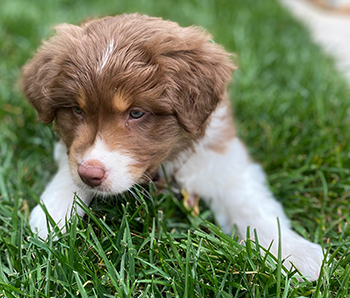 ---
4/6/20
Dear Kitsy,
I am letting you know that our Lash (DOB 12/12/04 Sire: CH Heartfire's Willin N Able x Dam: CH Outlaw's Saloon Girl of Old West and Feather's littermate) crossed the rainbow bridge this past summer. He was 14. We will never have another dog quite like him with his mind reading abilities and his healing nature. He stayed by my side while I went through chemo and when we acquired his great niece Grace 8 years ago (DOB 2/21/12 CH Heartfire's Spy Who Shag'd Me X Old West Arabella and Loretta's littermate) he took over the role as lead puppy trainer. Little Gracie has proven to be as smart as a whip and so eager to please. Our next dog will definitely be of the same lineage, we are completely hooked on Aussies and Old West Aussies in particular. Enjoy the photos, we had several of them done when Lash started slowing down.
Audrey, David, Tyler, Spenser and Sonora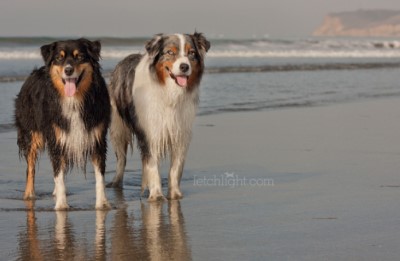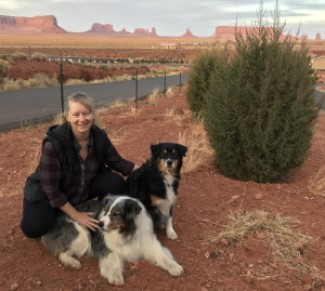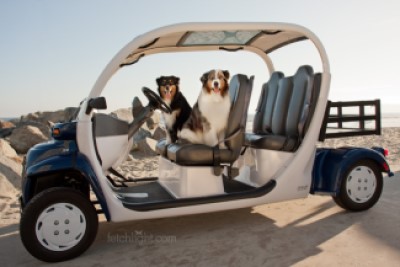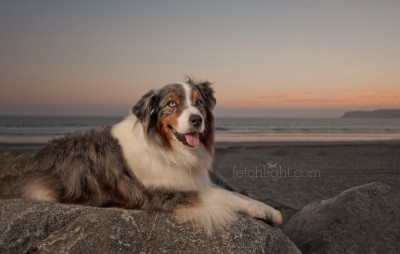 ---
4/2/20
Hi Kitsy,
We finally came to a decision on a name for our beautiful blue eyed black tri boy. His name is "Indy" (Kindle x Sutter 1/20) and I think it really fits him. He is so smart. He is learning everything so fast. He is really going to keep us on our toes trying to stay one step ahead of him. He is getting along great with Sky our beautiful red tri girl from Jinx. They are so cute together. They wrestle, they tug, they run, they relax together feeling the breeze. Indy also has a bit of an old soul in him. My three year old granddaughter is autistic. When they met for the first time Indy sat and looked at her for a bit. Then he gave her gentle kisses which she loved. He is very careful with her. He seems to know how to be with her. He is fitting right into our family so well and bringing us so much joy and laughter. Thank you so much.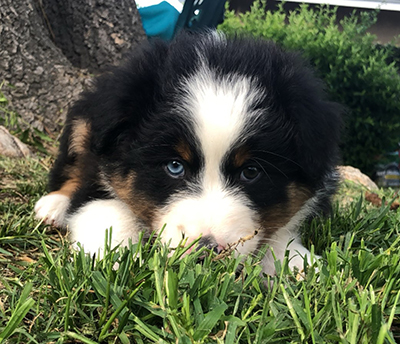 ---
4/2/20
Dear Kitsy,
I truly hope this email finds you well. We are heartbroken to say we lost our beloved Chloe to cancer yesterday. She was 12 and from your November 2007 litter of Cinders. To say we are devastated is such an understatement. She wasn't just the best dog she was a once in a lifetime dog and the love of our lives. We took her everywhere with us. She made five of our cross country moves and in January made one final move to our retirement home in upstate NY. She was pure sunshine and everyday with her was a gift. Our one consolation is the fact the we have Brandy Bleu from you who is now a rambunctious teenager at 19mos. While her personality is completely different from Chloe's she too is such a joy.

I am attaching some photos because we want you to know how grateful we are that you let us have her. Thank you again for breeding literally the best Aussies in the world.

Sincerely,
Heather Malone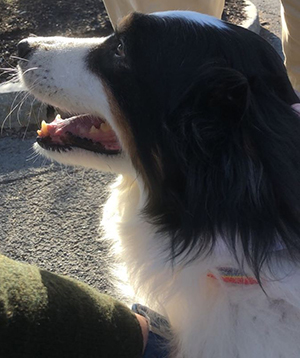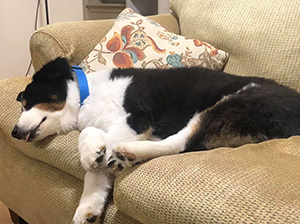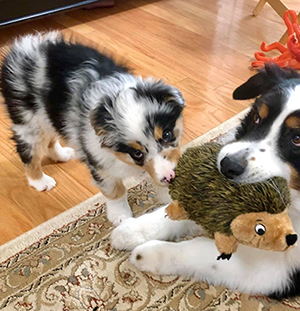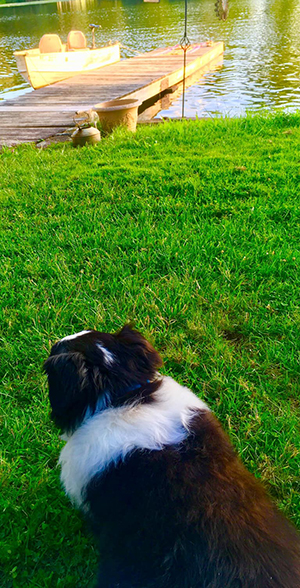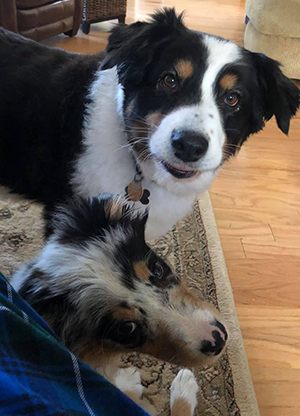 ---
2/2/20
Hey Kitsy,
Hope all is well:) Today is Bowie's (Primrose X Sutter 8/19) 6 months so we thought we'd send you a photo update. She's great and we love every second with her.
Julius Lee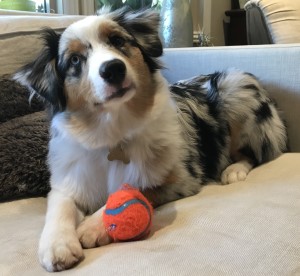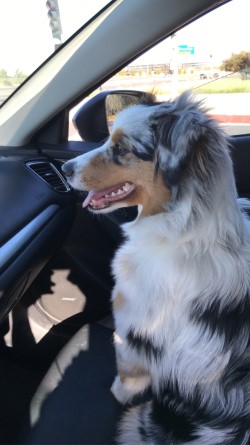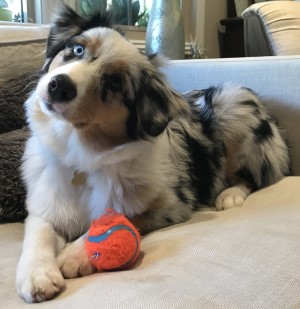 ---
1/2/20
Hi Kitsy
Hope all is well and you had a good Holiday......Just wanted to send you an update on Sailor..... He's 11 weeks old now, he's wicked smart and learns fast, so far his temperament seems to be pretty even keel, oh he zooms around and gets into stuff, but he mellows out and responds to commands (sometimes ).... he is charming and absolutely beautiful. Everywhere we go people comment on our handsome boy. I will keep you posted as he grows
Sincerely
Jan Clark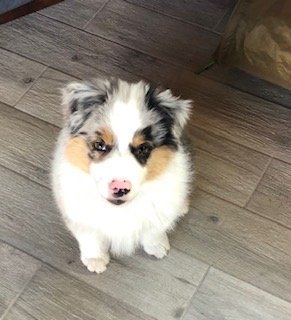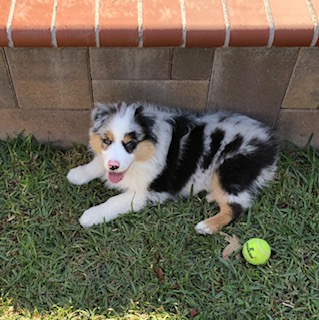 ---
2019
2020