2019 Testimonials from the happy owners
of OLD WEST
puppies
These are the testimonials and emails from previous puppy buyers. We LOVE to hear about our puppies in their new homes. IF you have an Old West puppy and would like to let us know how he or she is doing, please email us. We love seeing pictures of our kids as they grow up with their new families. Please click on the year at the bottom on this page for testimonials from each year.
---
2/19/19
Hello Kitsy,
Here are some fun pictures of our sweet Dexter.. He is such a good boy and loves to take care of his babies. (This is our 2 year old granddaughter) Dexter and Alana are together the whole time she is here. Nothing but play time, if she isn't playing with him, he is just laying next to her as she plays.

Audree is so in love with Dexter. Dexter adores her and loves and protects her. (Second picture)

Dexter has his first spa day He looks so handsome. (Third picture). This is how sweet our boy is. He thinks he is a lap dog for sure.. He is such the cuddle bug and we love our Dexter to pieces. He is the smartest dog I've ever seen.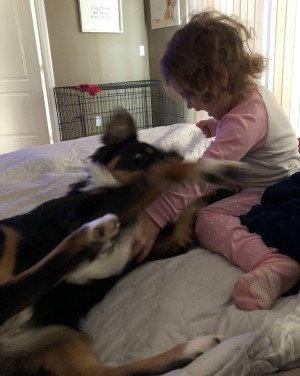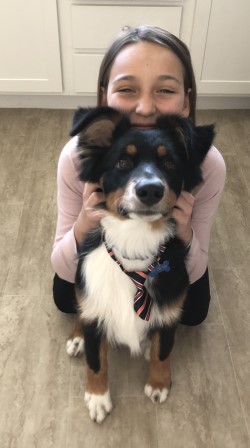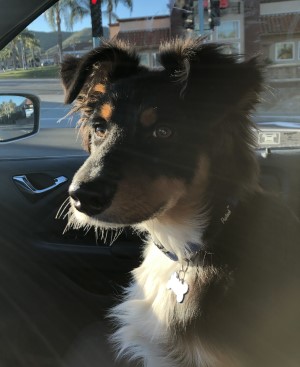 ---
2/11/19
Hi Kitsy,
just wanted to show you some photos of Lucy, she's about 10 months now. She's so sweet still and the biggest attention seeker. She's learned so many smart little tricks with me and I love her personality. I took her to play in the snow a few weeks ago and she loved it so much! She ran around and dived into the snow. I hope you get to see her in person soon and see how much she's grown into such a beautiful young lady. I appreciate you and always love sending update photos!
Mariel Kim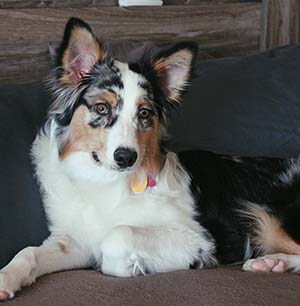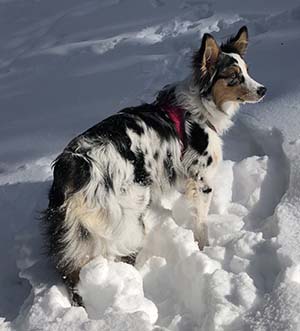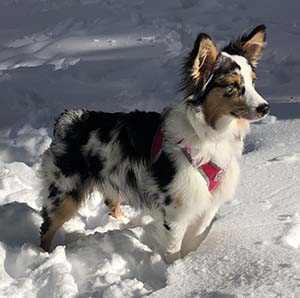 ---
2/8/19

Hi Kitsy,
Hope all is well. I am giving some thought to adding a second Aussie for Lincoln (and Stella) to hang out with. I'm just having so much fun with Lincoln. He's even started working on sheep! He passed his instinct test at 5 months and now I'm just waiting for him to get older so he can train. We're doing obedience and tricks classes right now.

Attached is a photo with an early valentine I made for this year.
~Diana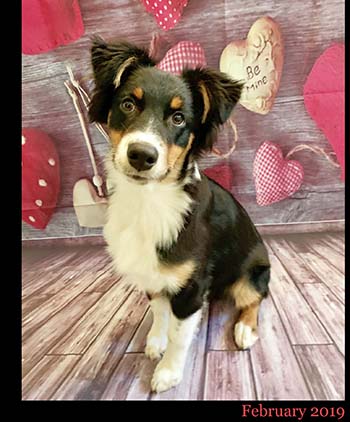 ---
2/5/19
Hi Kitsy,
Since we got Dot, we've traveled, hiked, and camped extensively. In the fall we brought her on a 2-month road trip to Maine and went to so many dog parks and hiking trails all across the country. I can tell you that Dot is THE BEST dog we could ever have for the things we do as a family. She's so friendly, social, eager to please, and always wants to go where we go. It's not always easy to control her enthusiasm when she sees a possible friend, but so many people across the country have told us how beautiful and well-behaved she is. Everyone wants to show her love and she wants nothing more than to show them love right back. THANK YOU!
Please let me know of any updates on future litters and we all look forward to socializing (playing with your puppies) in the near future.
Best regards,
Ben Foster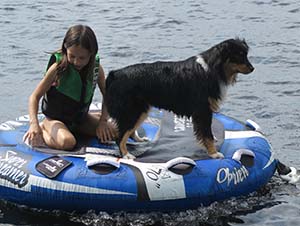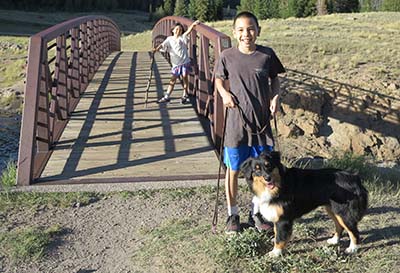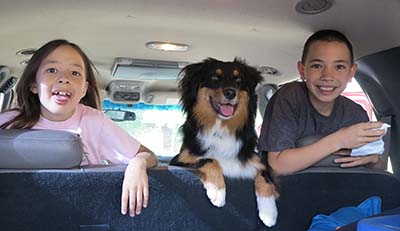 ---



2019