2018 Testimonials from the happy owners
of OLD WEST
puppies
These are the testimonials and emails from previous puppy buyers. We LOVE to hear about our puppies in their new homes. IF you have an Old West puppy and would like to let us know how he or she is doing, please email us. We love seeing pictures of our kids as they grow up with their new families. Please click on the year at the bottom on this page for testimonials from each year.
---
7/6/18
I just wanted to share a couple of pics I took of Roxy (Feathers X Tuff 12/12) & Eli (Jinx X Ransom 4/18) this morning. Eli has been with us a little over a month now and has adjusted to his new home as if he'd always been here. He is sweet and smart just like Roxy. They really get along great which is what we were hoping for. Thanks again for another amazing dog!

Sincerely,
The Eiberger family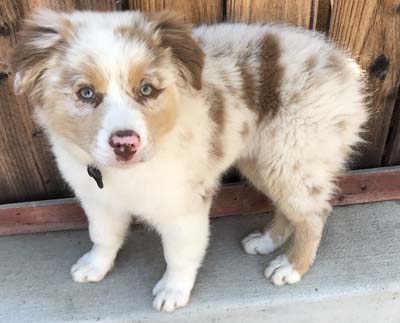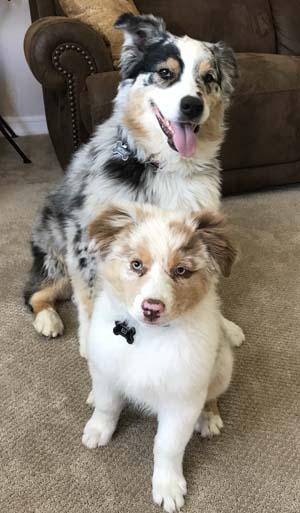 ---
6/3/18
Hello Kitsy
Here is a recent picture of Shiloh (Sutter x Primrose 10/17). She is getting big and her coat is growing out. She still acts like a puppy and loves to play.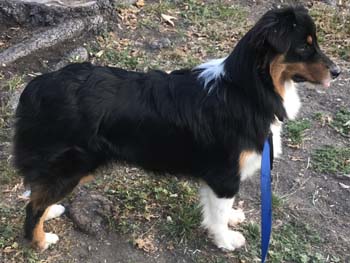 ---
4/26/18


Hi Kitsy,


Dot

(Sutter X Loretta 9/17)

has been a wonderful addition to our family. She is an amazing companion.
Every morning she greets each one of the family with her cute wiggle butt, she follows
us around everywhere and lays next to us wherever we sit. Her fur, look and temperament remind me of her mama ,Loretta, so much.
She loves hiking and exploring. We plan on taking her and the kids on a five week across the country trip this fall. I am sure it will be fun.
We love her so much and thank you from the bottom of our hearts!

Cindy, Ben, Sam and Kim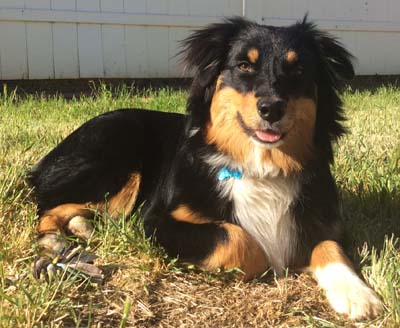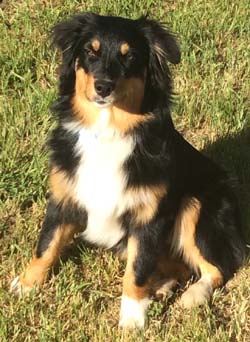 ---
4/16/18
Quentin

(Sutter X Loretta 9/17)

is about 6months now and doing great! He's a bucketfull of energy but he's a very good boy.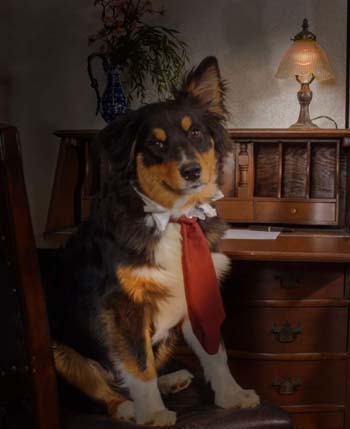 ---
4/11/18
Hi Kitsy,
I wanted to update you about Kona (Ransom x Jinx 4/11/2017) on her first birthday. It's been a very active past year with this high energy pup, always ready to run, jump, and play, and so very smart. She has learned many commands and tricks and is a favorite at the park where she will fetch a ball or frizbee for literally hours.
When I arrived to take her home, you said to me that you thought I would enjoy her personality....you were right! All that puppy play she foisted on her litter mates translated to a very energetic and relentlessly curious puppy once we brought her home. She is absolutely beautiful, healthy, and a sweet and loyal companion. I'm attaching some pictures of her so you can see what a beautiful dog we have.
I want to thank you so very much for sharing this amazing Aussie with me and my family. Congratulations to Ransom and Jinx for their new litter!
Gratefully,
Charlie Bimer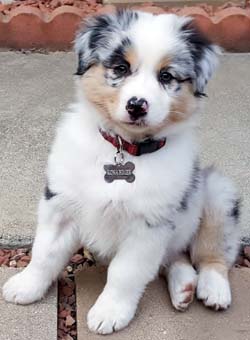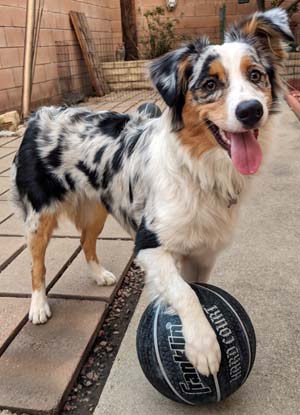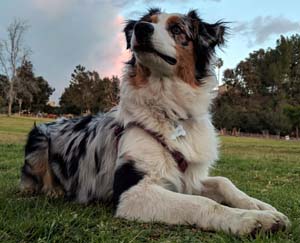 ---
3/20/18
Hey Catherine just wanted to see you some photos of Mylo (Sutter X Primrose 10/17) and a brief update on how he's doing! He's growing very very fast, he's almost 50lbs and loving llfe! we are about a month into a private puppy training course and he's doing really really well, can sit, lay down, stay, heal and come very very well! His disposition is very similar to when he was a puppy, very low maitnance, just loves exploring and doesn't freak out about much of anything, just a happy go lucky goof ball. The trainer wants to get him into print modeling for puppy food, cause his personality in his face is so sweet! Any who, below is a series of photos that i felt best capture him, can't wait for him to be fully grown, the puppy calculator calculates he will be nearly 60lbs! Cheers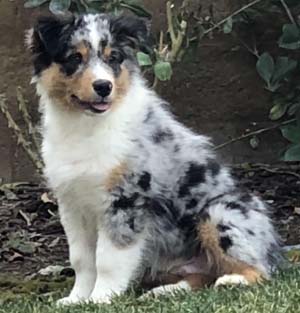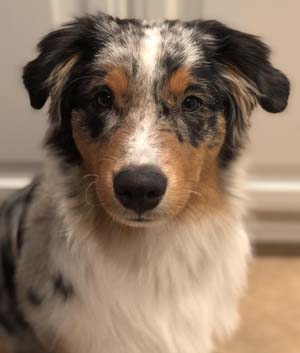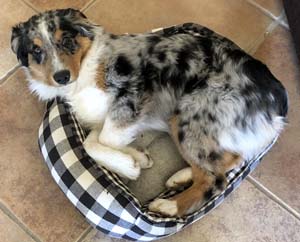 ---
3/20/18
Hi Kitsy

She is growing fast and very smart. She already sits, stays, come when called, down stay, leave it, watch. Shiloh (Sutter X Primrose 10/17) is a dream come true.

Thank you
Linda Scheid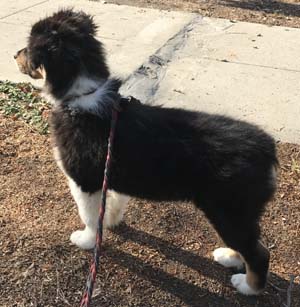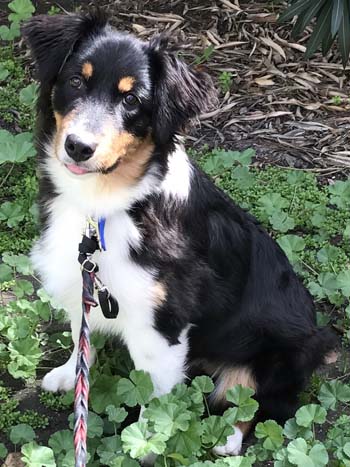 ---
2/20/18
Hello Kitsy!
Just a quick update about Christopher Robin, "Topher" from the Oct 4, 2017

(Sutter X Primrose)

litter. We're the folks up in Santa Cruz area, Marianne and John. Topher is doing fantastic! He's a star in his puppy and family dog classes. His personality is wonderful and he charms everyone who meets him. He loves his beach and forest adventures. We don't have as many bandages on our arms now that he's finally getting his adult teeth. In April we'll take him to a low-level ( no jumping, just puppy basics) Disc Dog workshop. While he's still full of puppy mischief and energy, he can be very snuggly and mellow too.We're very happy with him.
Marianne and John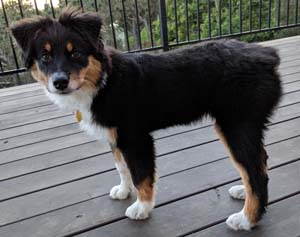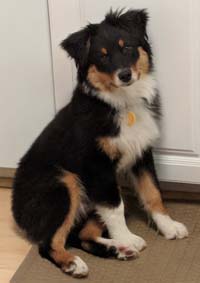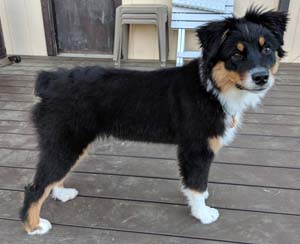 ---
1/18/18
Hi Kitsy, just a note to let you know that Gunner

(Sutter X Loretta 9/17)

, formally Shadow, is doing well. He loves all people and dogs and is very food motivated in the learning process. He is not the kind of dog that loves to be petted and cuddled as he thinks any attention means play of chew but we are having lots of fun with him.
Take care, Roger Lane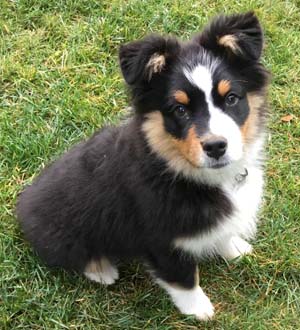 ---
2011 2012 2013 2014 2015 2016
2017