2023 Testimonials from the happy owners
of OLD WEST
puppies
These are the testimonials and emails from previous puppy buyers. We LOVE to hear about our puppies in their new homes. IF you have an Old West puppy and would like to let us know how he or she is doing, please email us. We love seeing pictures of our kids as they grow up with their new families. Please click on the year at the bottom on this page for testimonials from each year.
---
5/25/23
Hello Kitsy,
Our Magnus (Blake X Scout) been getting bigger and bigger every single day, although he still responds to "Puppy Puppy!" Today the individual blue and brown colors in his eyes seem more defined than ever before.
Recommended by "How to Train Your Puppy," we ordered a dog-carrying tote bag, which he loves. All we have to do is lower the sling to the floor and say, "come on, get in," and Magnus walks in on his own and curls up. It's remarkable how much this puppy likes to be held. He also loves jumping directly into his toy basket. Thanks for the varied bag of treats. He has a special attachment towards the pig snout.

Grateful for the new experiences with him,
Tali and Robert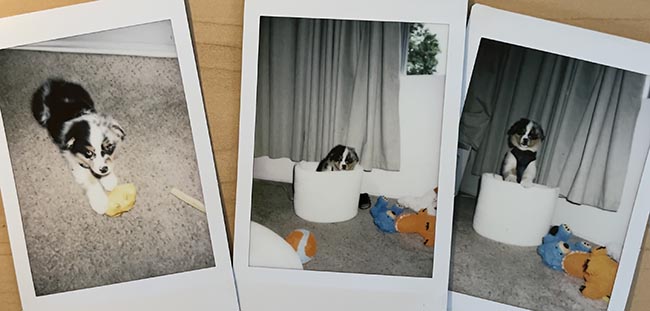 ---
5/7/23
Kitsy, it has been almost 2-1/2 years since we brought home Ranger (1/21 Sutter-Nighty). He has earned his AKC CGC and CGCA and enjoys competing in agility. He's as big as his dad and a goofy, happy boy. We love him so! And Mattie (7/20 Sutter/Primrose) also earned her CGC/CGCA and loves frisbee. She brings us such joy! We love our pups!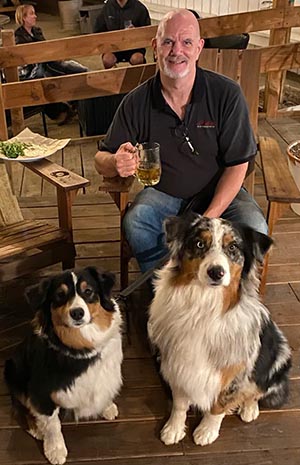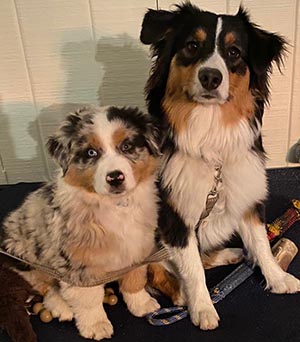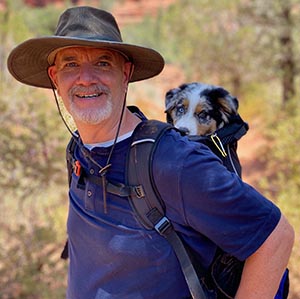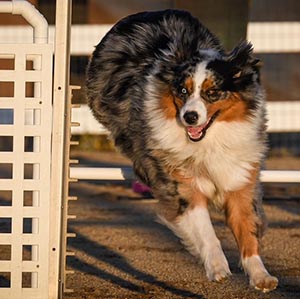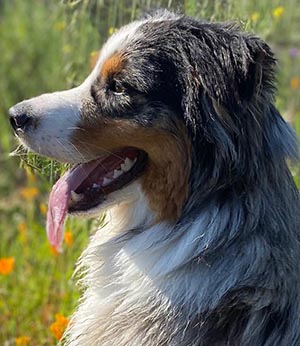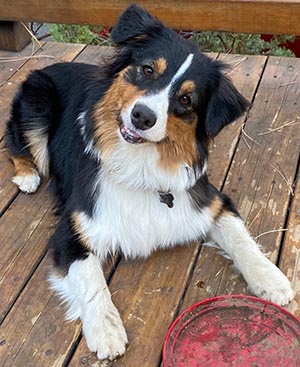 ---
4/30/23
Hi Kitsy!
Hope all is well! Wanted to give an update on Romeo (Sutter & Remy 1/17/23). He's happy, healthy and a little sassy. I would do anything for him and he knows it! We've been training since I brought him home, and he is thriving in puppy school. He loves his half sister Blue, who's from your 8/2019 litter. I always tell everyone your aussies are the best! I'm so happy I found my Romeo I can't thank you enough!

Follow Romeo's adventures here: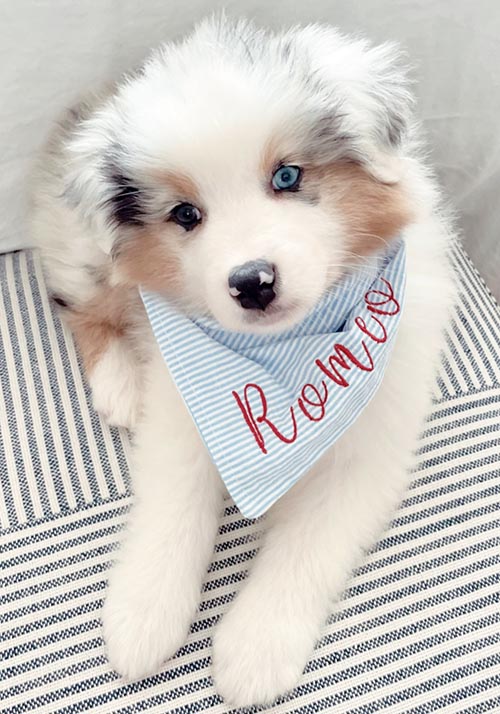 ---
3/25/23
Hi Kitsy,
We are out in Gods country every day, puppy class is great, she's and I'm learning - lots. She's (Zoe: Blake X Scout 2022) an amazingly athletic, adventurous, perceptive, and a smarty pants. Her beautiful adult "hair" is all coming in, I wouldn't even call it "fur" it's so silky and lovely.
She's a cuddler and a love bug. My heart is full….
Thank you for her. ❤ we are having a great life together.
My best to you,
Cynthia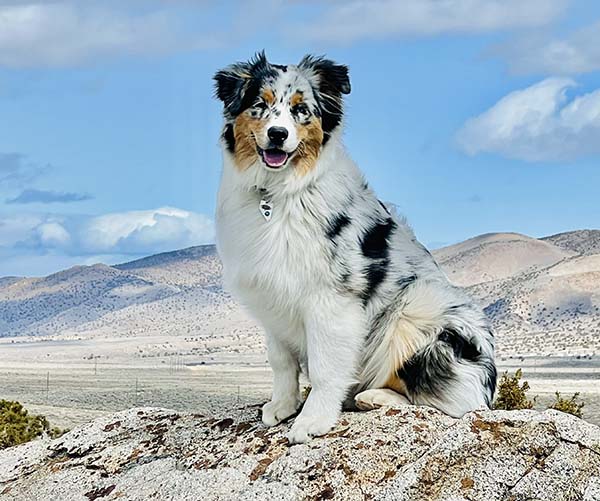 ---
3/21/23
Hello Kitsy
I wanted to let you know Lucy (Jinx X Ransom 2018) is doing amazing lately. We started new activities to keep her more stimulated. She's definitely been a handful but one of the best pups we've ever had. And keeps us on our feet! I just trained her how to put her baby blankets into the washing machine every week!

She's turning 5 this year and I thank you for bringing such lovely dogs into this world! She's definitely spoiled but I wouldn't want it any other way.

(I swear she has 3 beds that are double the size… she just chooses the smallest one haha)
Mariel Kim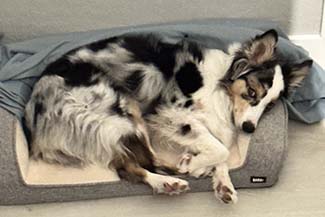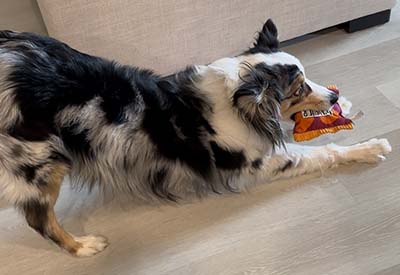 ---
3/19/23
My beautiful Aimee (Loretta X Ransom 2015). I love her as much as life itself. She will hard stare me like this until I get up and get the frisbee going. This amazing dog will fearlessly flank a herd of one hundred plus cattle and move them in the direction we need them to go. She lunges and soft punches them right between their eyes if they don't respect her and move. And when she's all done, she still looks so prim and lady-like the way God made these gorgeous wash and wear working dogs to look. No formal training - just born with intelligence and nerves of steel. "Gimme some cows and I know what to do". I just wanted to check in to say how grateful we are for Aimee.
DeeDee Armenta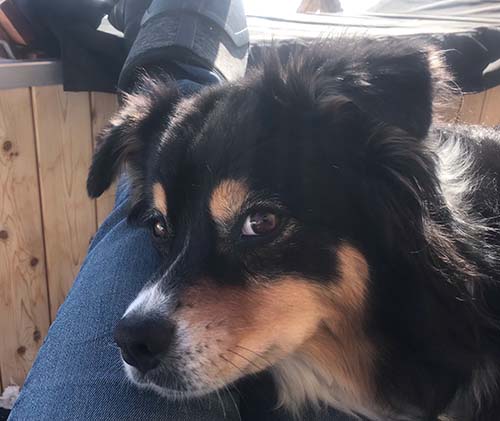 ---
2/21/23
I wanted to let you know how much we enjoy Bodi. (Scout x Blake.9/22) He has been such a joy. Smart, athletic, handsome, wants to please, makes great eye contact, really good with other dogs and easy to train. Soo much joy in such a small package! We couldn't be happier.
Thank you!!
Steve and Lori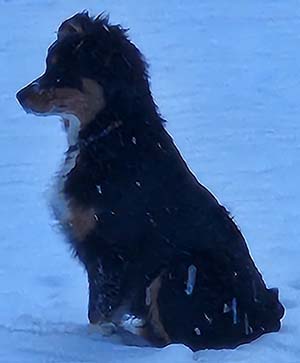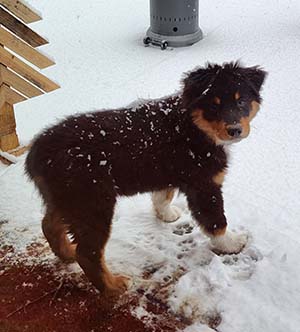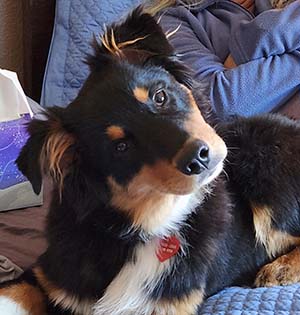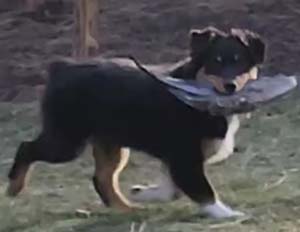 ---
2/13/23
Hi Kitsy!
Today is Hugo's 3-year birthday!! He's AWESOME! (Jinx X Ransom 2020)
Shana Reiss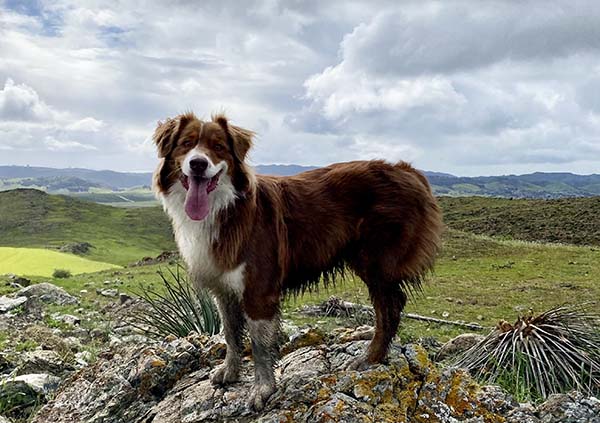 ---
1/29/23
Hi Kitsy,
Hope alls well with you and your family!
Just a quick pic of this beloved girl (Blake X Scout 2022) an hour ago on a walk, she's so happy, learning new things and going new places every day! She sleeps on the bed until she's too hot then goes n her bed next to her dog friend Billy Jack.
I cook healthy meat and veggies for them, etc. just want you to know she has a really good life and is so very loved!!
Thank you, as always, for breeding such extraordinary dogs.
Cynthia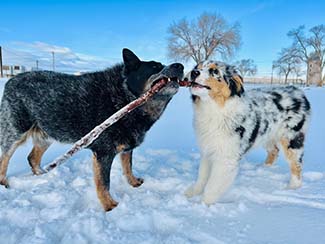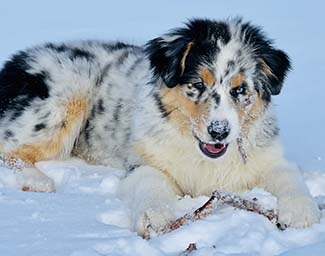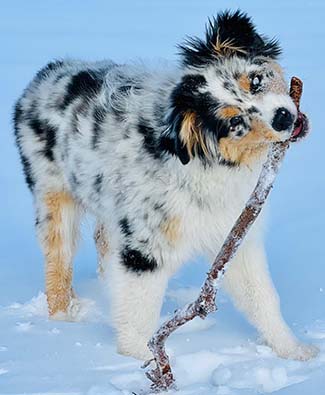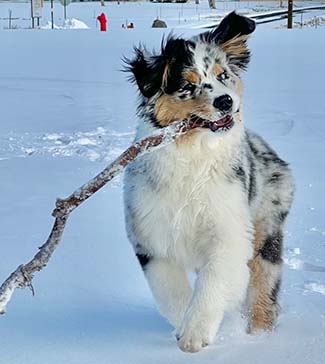 ---
1/14/23
Happy New Year!
Just a quick note to say how much we love Beau ! (It was a year Thanksgiving weekend). (Primrose x Blake 2021)
He loves his big brother and we are all grateful for him every day. Never thought I could love a dog this much again.

Fondly
Jaime and Bill Vinck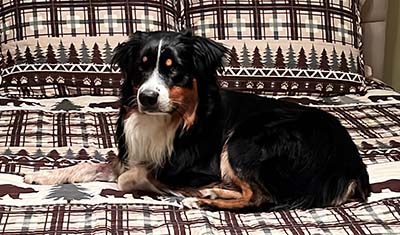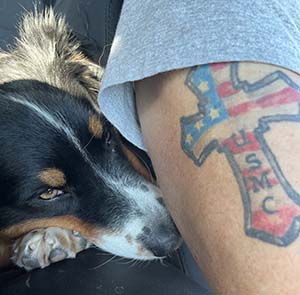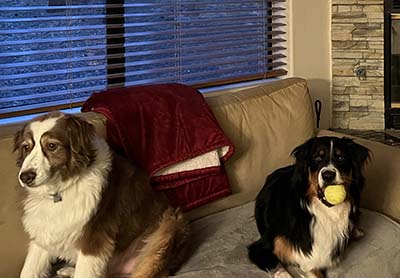 ---