2023 Testimonials from the happy owners
of OLD WEST
puppies
These are the testimonials and emails from previous puppy buyers. We LOVE to hear about our puppies in their new homes. IF you have an Old West puppy and would like to let us know how he or she is doing, please email us. We love seeing pictures of our kids as they grow up with their new families. Please click on the year at the bottom on this page for testimonials from each year.
---
10/10/23
Hi Kitsy,
Hope everything's going well for you and the pups. Just wanted to give you an update on Bentley (Blake x Scout 2022) who turned 1 year old a couple of weeks ago. She has grown into such a confident, happy and healthy puppy and has the most beautiful red-tri coat. We live by the beach and go for walks there every day. Training has always been a breeze since she's so naturally intelligent, and she has already learned so many different tricks and commands. Lately we've been working on teaching her to run through an obstacle course and she picks it up so easily! She loves playing with other dogs and gets so many compliments all the time for how cute and well behaved she is.

She is the first puppy that I've raised on my own and it has been such a fun journey. She has been an absolute joy to raise! I'm so grateful for all you do and for breeding such happy, healthy pups. We'll keep you updated on how she does throughout the next few years. Take care until then!

Best,
Erin Flores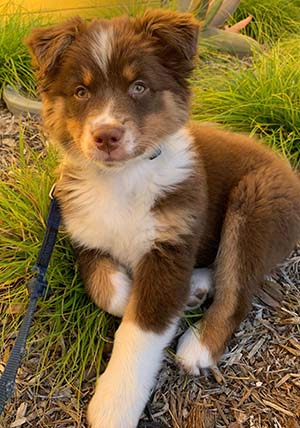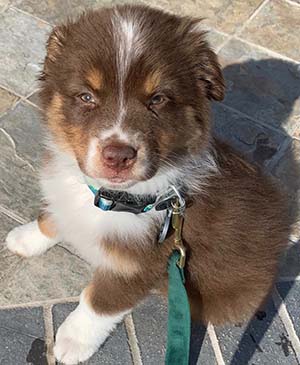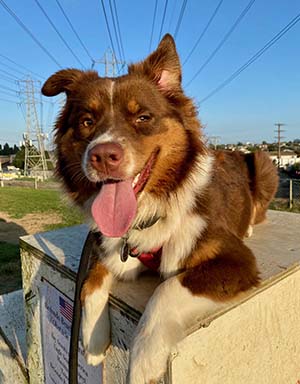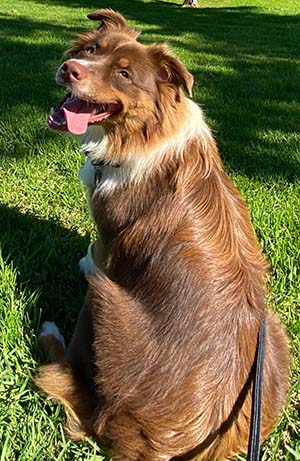 ---
8/28/23
Hi Kitsy
Hope all is well with you and your pups.
Just wanted to share an update. Sydney is the sweetest most loving baby. And she loves everybody and every dog she meets.
Cheers,
Amelia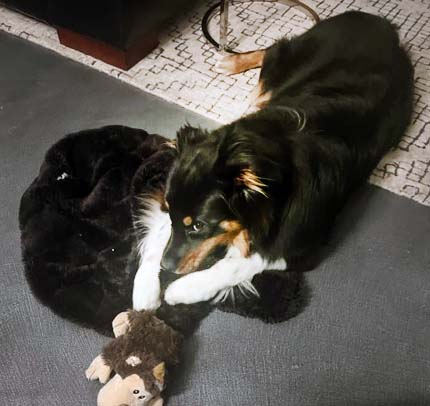 ---
9/27/23
Hi Kitsy
We wanted to give you an update on Bodie, a day before his one year birthday, (Blake X Scout, 9/22). He is such a wonderful addition to our lives. He is my third Old West Aussie, and like the other two is a fantastic companion. He is such a happy guy, always a smile on his handsome face. He is so intelligent and loves to please. He goes on all our adventures with us. We have started agility classes with him. Bodie also really loves to swim. He love to play with any dog and knows how to "read the room" being as rough or gentle as required.
Thank you for bringing such a wonderful spirit into our lives!
Stephen Shultz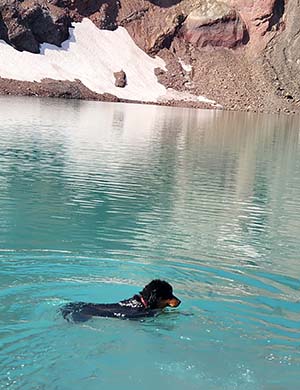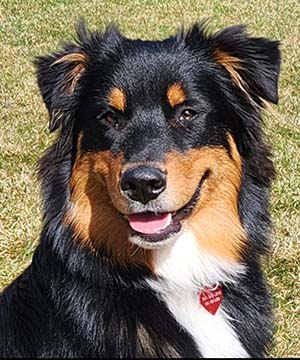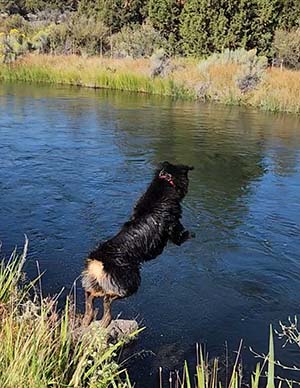 ---
8/26/23
Hello,
This is Lorraina Kestner from Tucson Arizona. I have thought of you and your precious dogs over the years (I view your website).

My husband and I purchased two pups from you born on 2/16/16 from Bella and Ransom litter. Adam the red-tri boy and Angel the black-tri girl. They are the loves of our lives!

They are the best travelers. I have earned AKC Obedience and Tricks titles with both of them. They are sweet and so happy.

I am a photographer and have taken numerous photos of them.

I hope you are well. Many thanks for being an excellent breeder.
Lorraina Kestner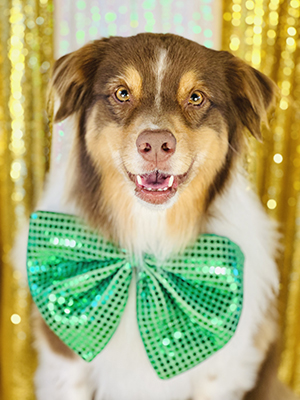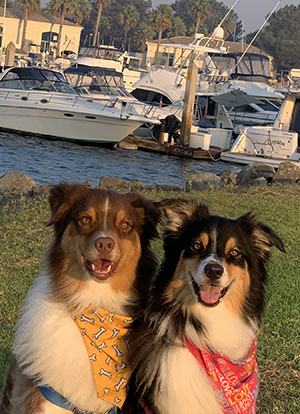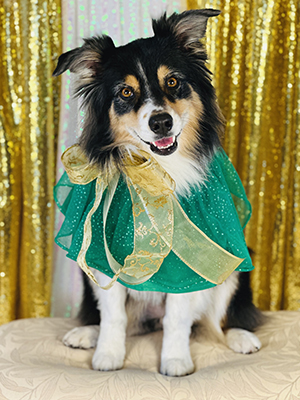 ---
8/12/23
Hi
Misty blue is now 12.5 years old. Early April she started having diarrhea and Losing weight so we started treating her with prescription food, blood tests etc at Banfield. After 3 months of treatment she didn't improve but got worse and her liver values were really high.. We finally got an ultrasound of her body which showed she had lots of tumors and Nigel's on liver, pancreas lungs etc.

we are making her comfortable now with steroids and giving her any food she will eat and lots of love. She walks very slowly and not very far but she is still with us and no accidents in the house so far. She's such a good girl. She doesn't seem in pain maybe because of the steroids. Say a prayer for her. Not sure why god gave dogs such a short life span. Not fair.

Just thought I would share with you and tell you how much joy and love Misty blue has brought to John and I over the years. Thank you…..

We moved to Delaware in 2021. So we are no longer in California. Blue got to experience snow last year. Lol. People even stop their cars in the middle of the street to tell us how beautiful she is. And she really is.

Sally Hart and john Wiggins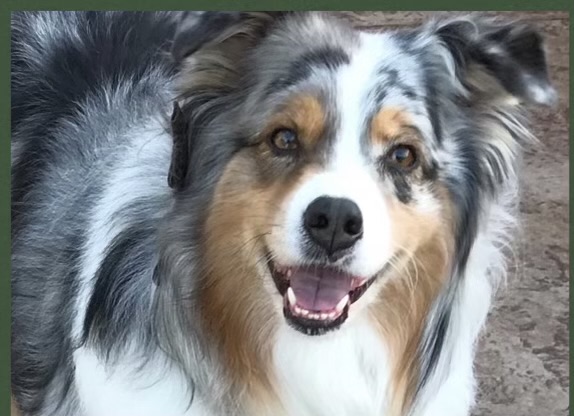 ---
7/28/23
Hi Kitsy… Finley (Blake X Scout 3/23) has turned into the best dog…. She is such a good friend to Abbey.. They hang together chase each other play and she has such a great personality and lots of Bailey's traits… Her left ear goes up and down and she is friendly with everyone and still does not bark at all… I did not take her to the Vet to get her Rabies yet… Waiting till she is at least 6 months… She has had your shot and 3 more at the vet and is fine.. Love her so much.. Thanks for allowing us to get her.. Bill is crazy about her…. Thanks again…. Shelley & Bill…. :) I'll send a couple of her at Whitneys in a separate email.. I babysat Loki the other day and they are like magnets when together..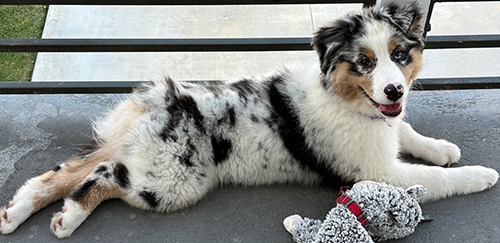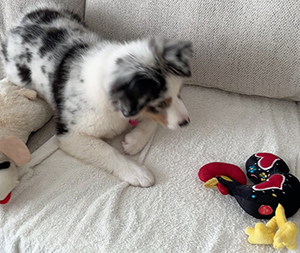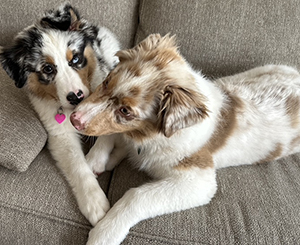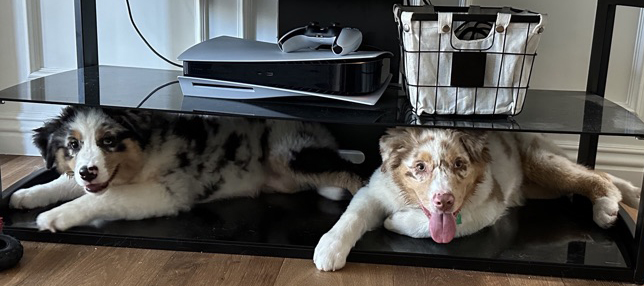 ---
6/21/23
Hi Kitsy!
I apologize for not having sent an update since our pickup. But it's been amazing to have Fletch (Blake X Scout 3/23). He's spunky, fluffy, and just so friendly to everyone he meets. It's honestly hard to tell if he's happy to see Dad home because he is always happy to see people! His training is going well and we're looking forward to walks where Fletch doesn't have to be carried :) here's some pics!
Ryan Douglas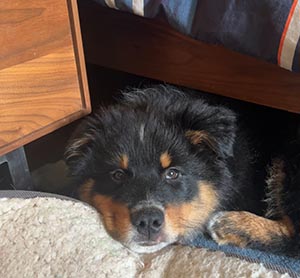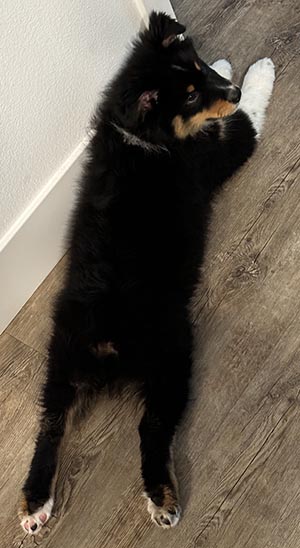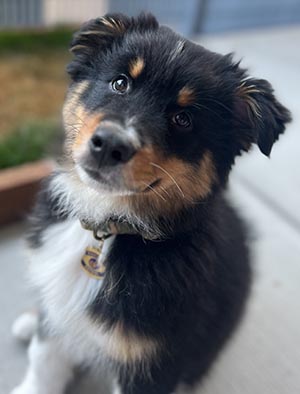 ---
6/16/23
Kitsy:
Klay (Blake X Scout 3/23) is a wonderful dog. He is already potty trained, and he has learned to walk on leash with his sister Morgan. Klay also has two cousins, Leah and Kona that he plays with all the time. His demeanor is sweet and playful and acts like a "big dog".
Michael R. Van Every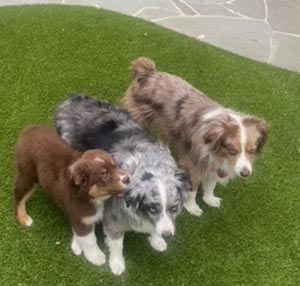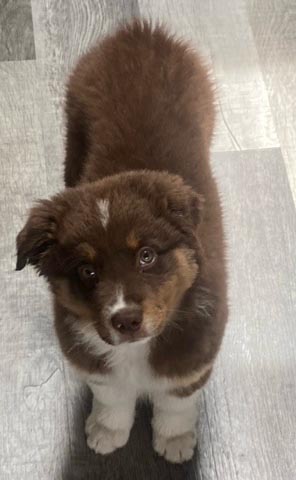 ---
6/9/23
Hi just wanted to tell you how wonderful Finley (Blake X Scout) is… She is the one happy positive thing around here.. She gets along and plays with abbey doing tug a war with toys and running after each other even at this young age. When Loki comes its a different story.. They play so hard.. He is such a big boy.. he is like 4 inch or more at least 5 lbs heavier and a completely different build more like Scout… I think finley is more like her dad with moms coloring.. Nose isn't as long and just still a butterball but was 14 lbs. last Friday when she got her vaccination.. They are so different personality and looks.. Hard to believe they came from the same litter… They are good friends though.. Is that common for the size to be so different.. ??? Take care here are a few pics… the last one is a video.. finley eating her frozen lunch to separate them for a while…
Shelley Shofstall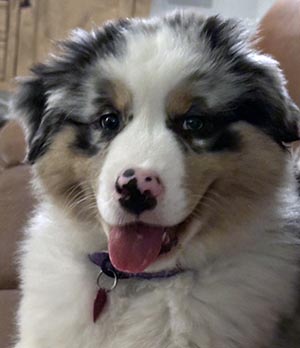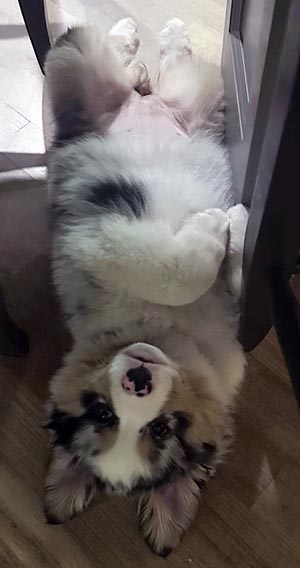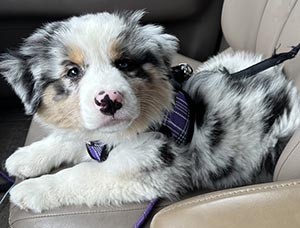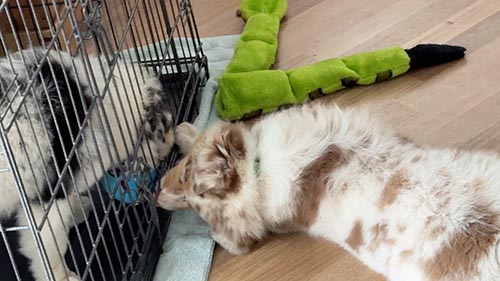 ---
6/6/23
Hi Kitsy,

Yuki (Blake x Winter) is one years old today. She is doing great. She loves road trips, and loves to meet new people. She isn't the shy type. Many people have asked us if she is a mini Aussie. We tell them no, she is petite, just like her mommy. We love her very much. Thank you.

Best, Tim, Jodi, our son Troy, and of course Yuki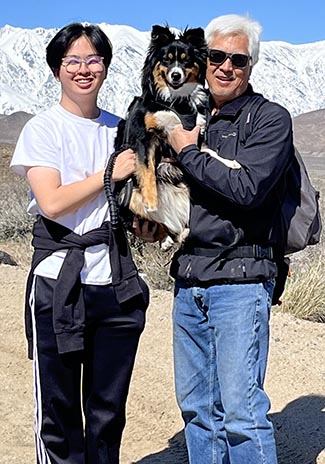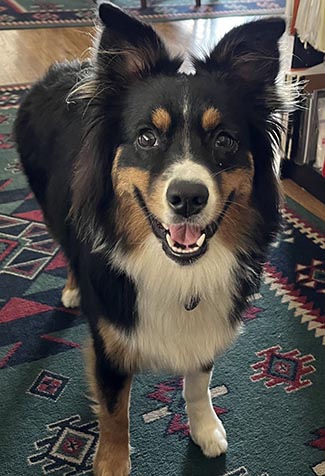 ---
5/25/23
Hello Kitsy,
Our Magnus (Blake X Scout) been getting bigger and bigger every single day, although he still responds to "Puppy Puppy!" Today the individual blue and brown colors in his eyes seem more defined than ever before.
Recommended by "How to Train Your Puppy," we ordered a dog-carrying tote bag, which he loves. All we have to do is lower the sling to the floor and say, "come on, get in," and Magnus walks in on his own and curls up. It's remarkable how much this puppy likes to be held. He also loves jumping directly into his toy basket. Thanks for the varied bag of treats. He has a special attachment towards the pig snout.

Grateful for the new experiences with him,
Tali and Robert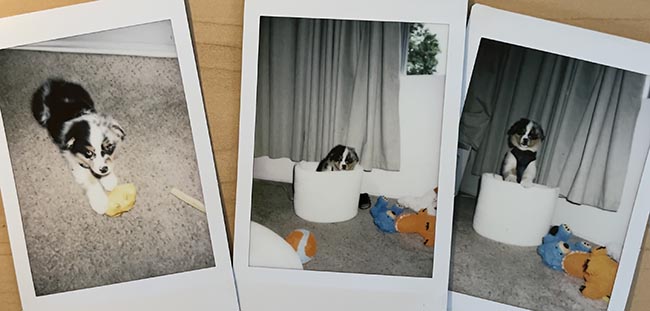 ---
5/7/23
Kitsy, it has been almost 2-1/2 years since we brought home Ranger (1/21 Sutter-Nighty). He has earned his AKC CGC and CGCA and enjoys competing in agility. He's as big as his dad and a goofy, happy boy. We love him so! And Mattie (7/20 Sutter/Primrose) also earned her CGC/CGCA and loves frisbee. She brings us such joy! We love our pups!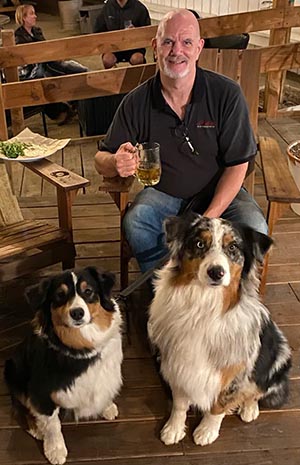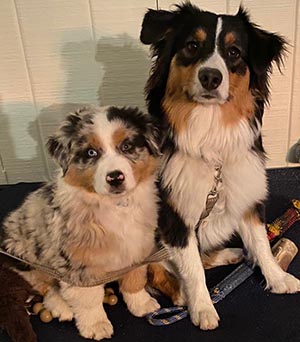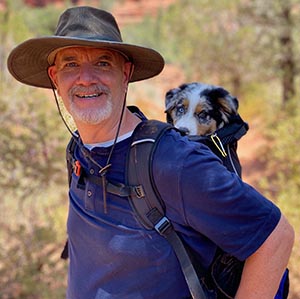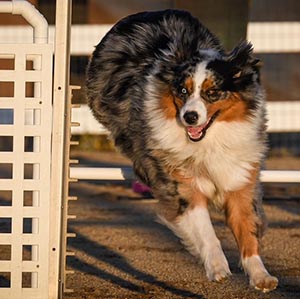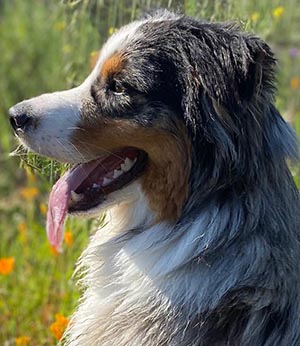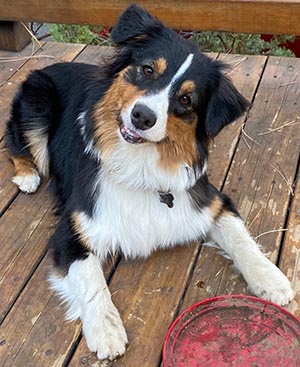 ---
4/30/23
Hi Kitsy!
Hope all is well! Wanted to give an update on Romeo (Sutter & Remy 1/17/23). He's happy, healthy and a little sassy. I would do anything for him and he knows it! We've been training since I brought him home, and he is thriving in puppy school. He loves his half sister Blue, who's from your 8/2019 litter. I always tell everyone your aussies are the best! I'm so happy I found my Romeo I can't thank you enough!

Follow Romeo's adventures here: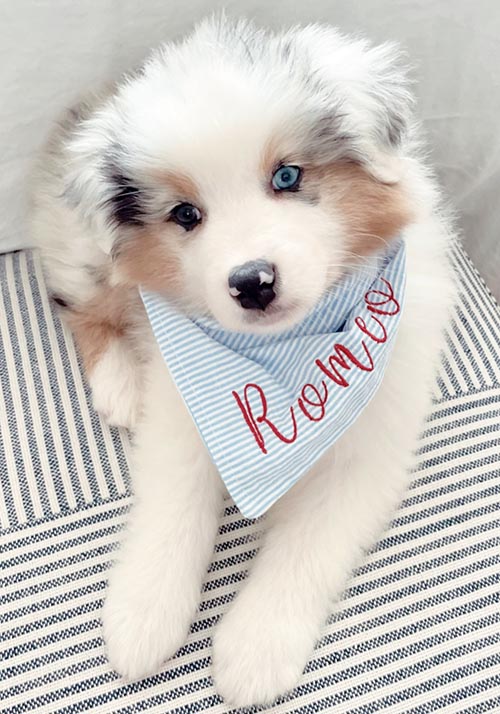 ---
3/25/23
Hi Kitsy,
We are out in Gods country every day, puppy class is great, she's and I'm learning - lots. She's (Zoe: Blake X Scout 2022) an amazingly athletic, adventurous, perceptive, and a smarty pants. Her beautiful adult "hair" is all coming in, I wouldn't even call it "fur" it's so silky and lovely.
She's a cuddler and a love bug. My heart is full….
Thank you for her. ❤ we are having a great life together.
My best to you,
Cynthia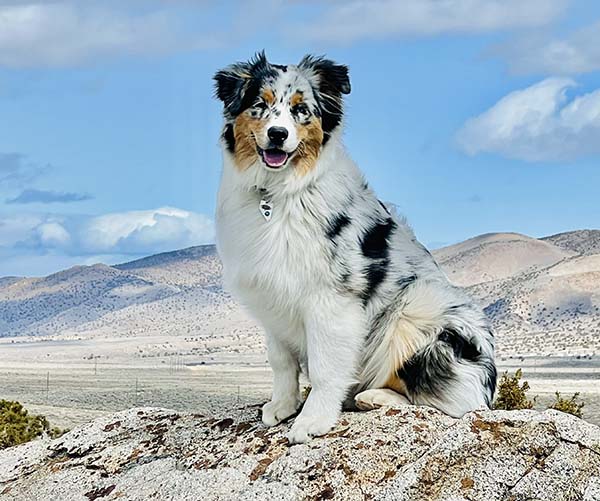 ---
3/21/23
Hello Kitsy
I wanted to let you know Lucy (Jinx X Ransom 2018) is doing amazing lately. We started new activities to keep her more stimulated. She's definitely been a handful but one of the best pups we've ever had. And keeps us on our feet! I just trained her how to put her baby blankets into the washing machine every week!

She's turning 5 this year and I thank you for bringing such lovely dogs into this world! She's definitely spoiled but I wouldn't want it any other way.

(I swear she has 3 beds that are double the size… she just chooses the smallest one haha)
Mariel Kim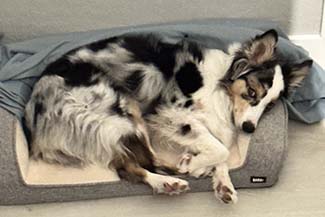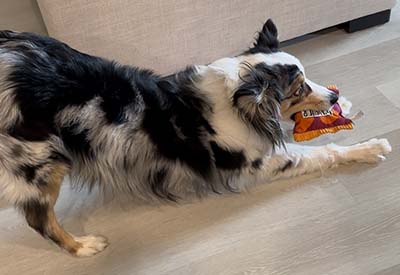 ---
3/19/23
My beautiful Aimee (Loretta X Ransom 2015). I love her as much as life itself. She will hard stare me like this until I get up and get the frisbee going. This amazing dog will fearlessly flank a herd of one hundred plus cattle and move them in the direction we need them to go. She lunges and soft punches them right between their eyes if they don't respect her and move. And when she's all done, she still looks so prim and lady-like the way God made these gorgeous wash and wear working dogs to look. No formal training - just born with intelligence and nerves of steel. "Gimme some cows and I know what to do". I just wanted to check in to say how grateful we are for Aimee.
DeeDee Armenta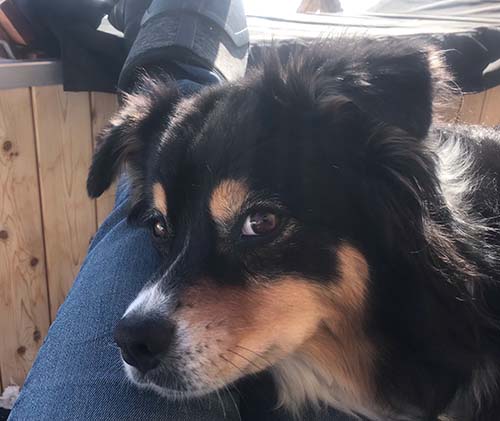 ---
2/21/23
I wanted to let you know how much we enjoy Bodi. (Scout x Blake.9/22) He has been such a joy. Smart, athletic, handsome, wants to please, makes great eye contact, really good with other dogs and easy to train. Soo much joy in such a small package! We couldn't be happier.
Thank you!!
Steve and Lori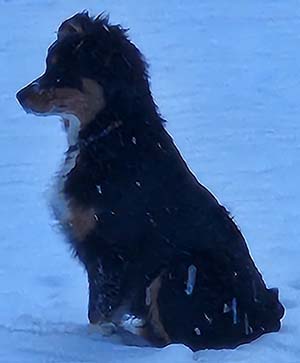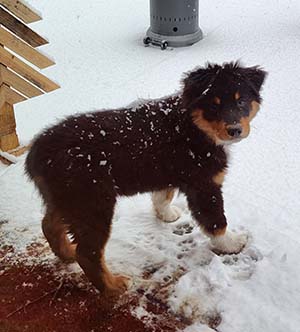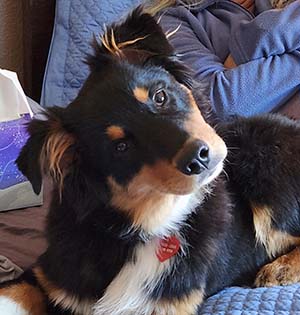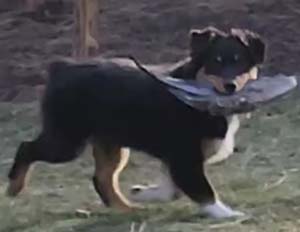 ---
2/13/23
Hi Kitsy!
Today is Hugo's 3-year birthday!! He's AWESOME! (Jinx X Ransom 2020)
Shana Reiss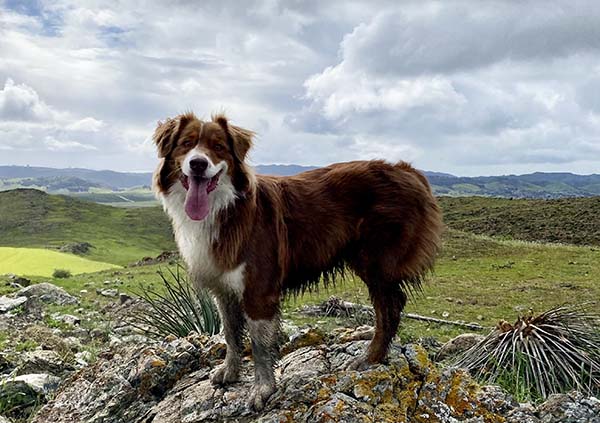 ---
1/29/23
Hi Kitsy,
Hope alls well with you and your family!
Just a quick pic of this beloved girl (Blake X Scout 2022) an hour ago on a walk, she's so happy, learning new things and going new places every day! She sleeps on the bed until she's too hot then goes n her bed next to her dog friend Billy Jack.
I cook healthy meat and veggies for them, etc. just want you to know she has a really good life and is so very loved!!
Thank you, as always, for breeding such extraordinary dogs.
Cynthia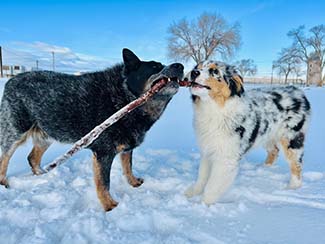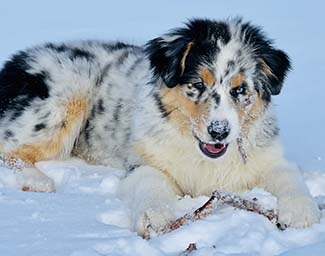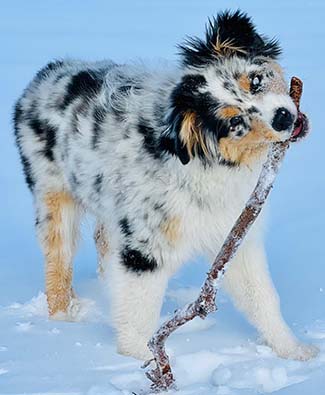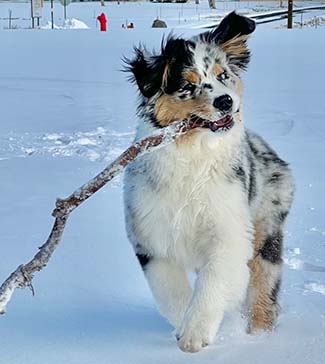 ---
1/14/23
Happy New Year!
Just a quick note to say how much we love Beau ! (It was a year Thanksgiving weekend). (Primrose x Blake 2021)
He loves his big brother and we are all grateful for him every day. Never thought I could love a dog this much again.

Fondly
Jaime and Bill Vinck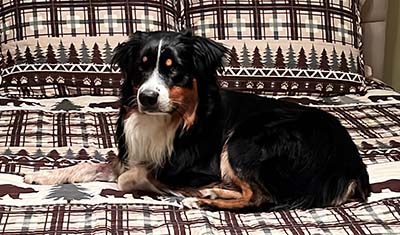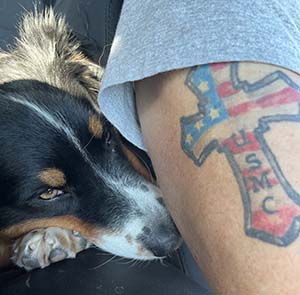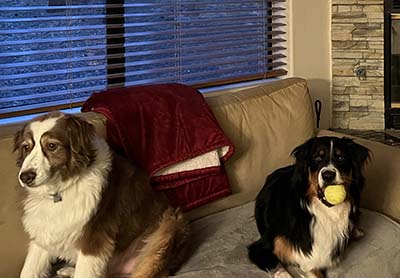 ---